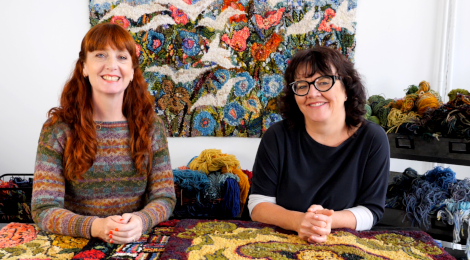 We prepared a colourful and fun program for you with Episode 128. For our feature interview, we travel to Amherst in Nova Scotia, Canada, to meet Deanne Fitzpatrick. Deanne is a celebrated fiber artist whose hooked rugs are in the permanent collections of the Art Gallery of Nova Scotia and the Canadian Museum of Civilization. She shares the history of rug hooking and shows her collection of antique hooks. She also takes us through her studio and ends with a short tutorial and some advice on creating your own rug designs. I have a newly finished project to show you, and Madeleine talks about a rather unusual project in Under Construction. In Pop Psychology, she blames her ill-fitting jumper on the Sunk Cost Fallacy and the Confirmation Bias. And in the spirit of Christmas, we're taking you to a medieval Christmas market in the south of Germany!
Rug Hooking – Deanne Fitzpatrick Studio
This episode's feature interview is about one of the oldest home crafts: Rug hooking. Rug hooking was once considered a chore of poverty, where people would cut up old cloths into strip and hook rugs to cover their cold floors. Rug Hooking has since changed into a medium for fiber artists and Deanne Fitzpatrick has developed the craft into an artform.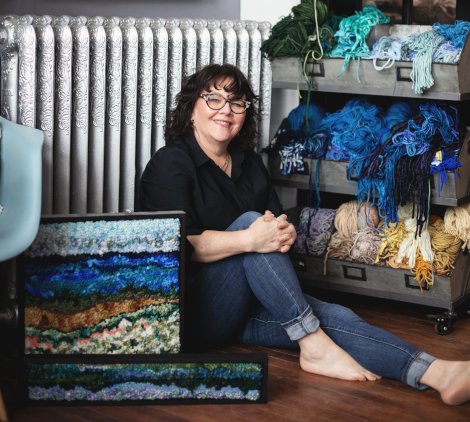 During our recent trip to Prince Edward Island, Canada, we drove down to Amherst, Nova Scotia, where we interviewed Deanne in her studio. Contrary to what people might imagine, Deanne didn't learn to hook rugs at her mother's knee. Her mother's generation still looked down on the craft as a chore of poverty.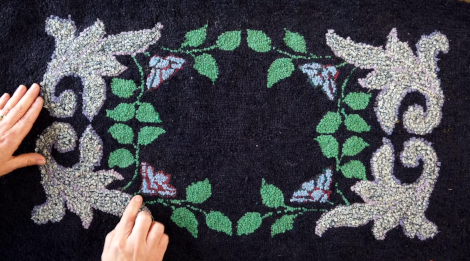 However, as a young adult, Deanne wanted to cover the floorboards of her old farmhouse and remembered the beautiful hooked rugs she grew up with. So she took a rug hooking class and immediately fell in love with the craft. She still has her very first carpet.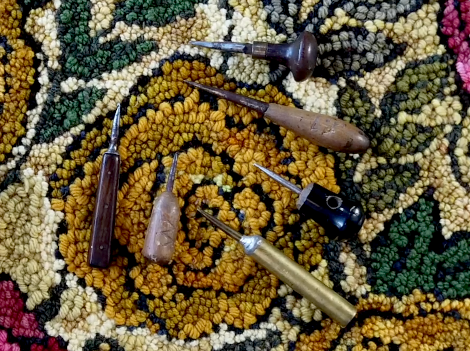 Deanne also has a collection of antique hooks fashioned creatively from whatever materials were available. Some people used old pocket knives, filed down the blade, and bent it into a hook with a hammer. Others use pipes or door nobs for the handle and a nail for the hook!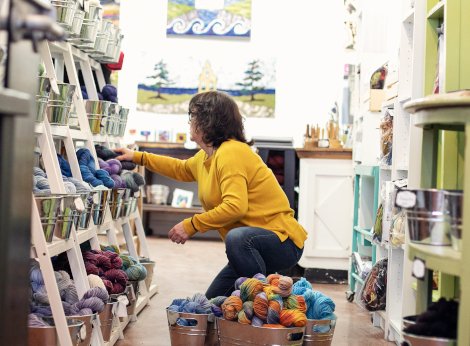 Deanne also takes us around her studio and explains the inspiration behind some of her artwork.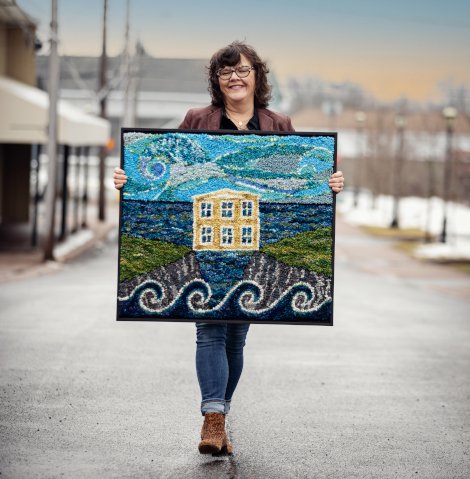 Originally from Newfoundland, Deanne lost her sense of belonging when she left her home at 16. The motive above reflects this feeling of "being in the middle." It's also about how, as a middle-aged woman, she can sometimes feel like she's teetering on the edge.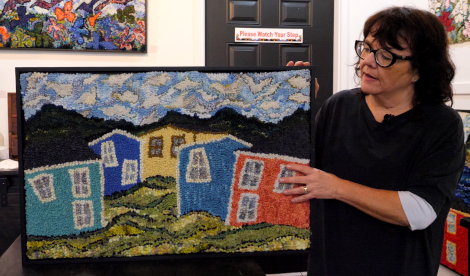 This rug goes back to the houses Deanne grew up with in Newfoundland. The doves in the sky represent peace. The rug is about the necessity of maintaining peace in your own home before you can keep the peace in the village.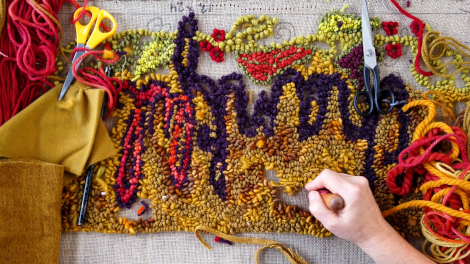 Deanne shows us the materials and basic techniques required for rug hooking. You just need burlap fabric, a simple hook, a frame, and some yarn or strips of cloth. The fact that you can use up all your leftover yarn makes it the perfect accompanying craft for us knitters!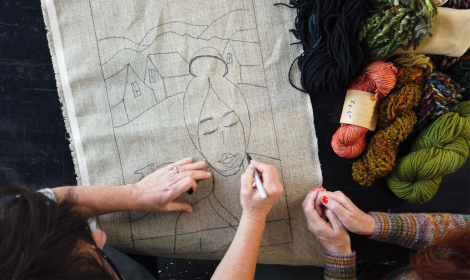 You can buy a burlap with an image outlined on it or design the motive yourself. An easy way to create balance in your image is to use the rule of thirds and repeat the same motif evenly across your canvas. It is also important to outline the motifs on your canvas. For example, here, Deanne would outline the houses using either black or white yarn.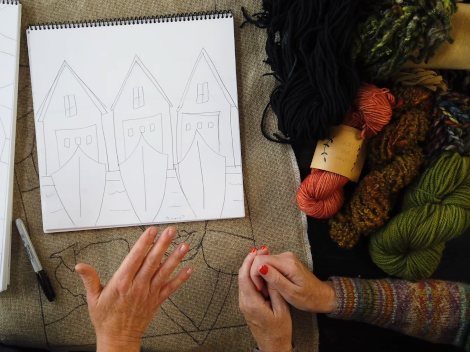 Finding Deanne Fitzpatrick
Patron Discount – Deanne Fitzpatrick Studio
Deanne Fitzpatrick is kindly offering Fruity Knitting Patrons 10% off everything in her online store. That includes all her books on rug hooking, and her kits with over 60 to choose from. She also has a huge variety of hand-dyed yarn and supplies. Deanne is also offering a free link to her online course 'Hooking Freestyle: Making Rugs with Creative Freedom', which is valued at $69.95! All the details are available for our patrons under this link. Thank you, Deanne, for this generous offer!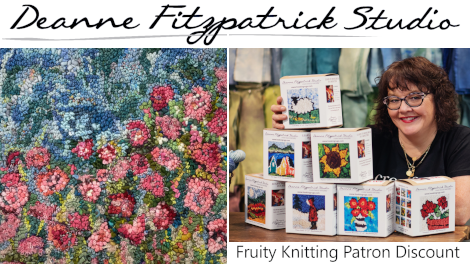 Bring and Brag – Count Dracula – Alan Dart
Meet Count Dracula! Isn't he gorgeous? This is another one of Alan Dart's patterns. We interviewed Alan back in episode 118. Count Dracula is a Christmas present for a friend, but I'm having a tough time giving him away because he's so cool! I used the recommended Sirdar yarn in DK on 3mm size needles. The needle size is smaller than you usually use, so the gauge is tight, and the stuffing won't show through.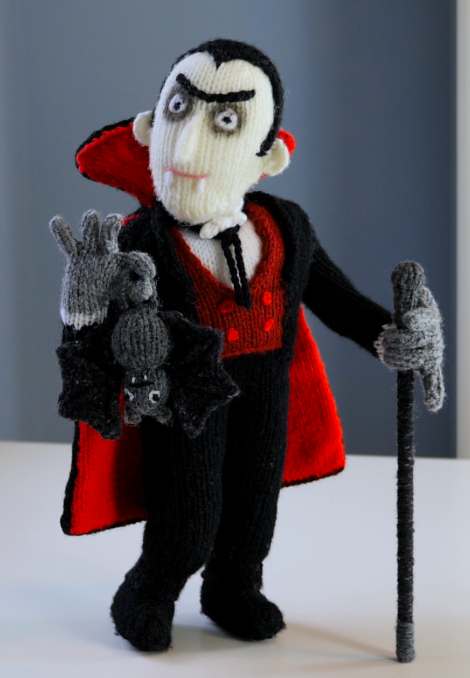 The more I knit Alan Dart's designs, the more I appreciate how detailed and exact he is in his techniques and calculations. The patterns really are immaculately written.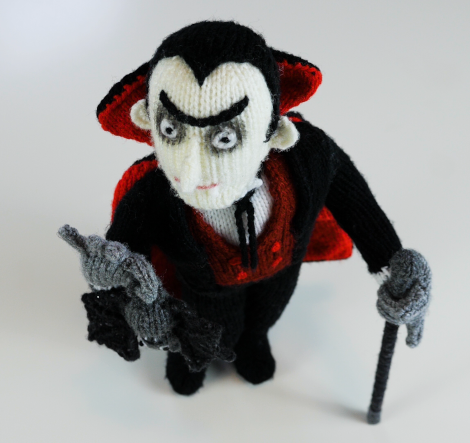 It is interesting to see all the possible shapes you can do with knitting on a very small scale, just using simple techniques. Alan only uses increases, decreases, short rows, and the knit and purl stitch.
Under Construction – Chess Set – Alan Dart
When I looked through Alan's patterns for potential Christmas presents, Madeleine spotted his knitted chess set and decided she had to make it. The chess set is quite large, and there's a lot of detail to each playing piece.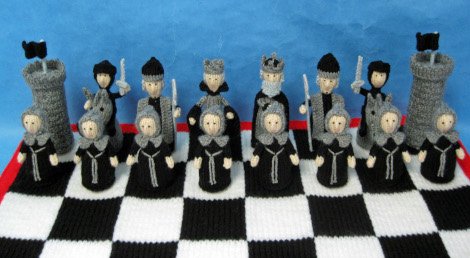 Madeleine is using the recommended Sirdar yarn in Chunky for the board and DK for the individual chess pieces. The checker pattern is made from 8 strips which you knit on 4mm needles and then sew together using mattress stitch to create an invisible seam. Then you knit the edging and glue the knitted checker pattern onto a wooden board.
Each playing piece has a metal nut inside it, so it doesn't fall over. All the pieces are dressed in a medieval style. The original pattern uses shades of white or grey for the playing pieces. But Madeleine added pastels to the white pieces and dark colours to the black pieces to give them more individuality.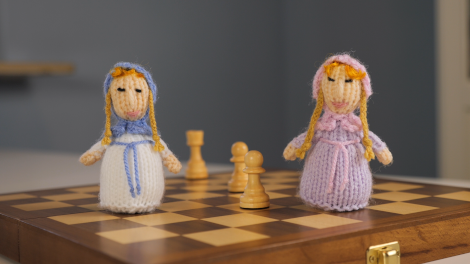 Each pawn wears a simple gown with a piece of yarn around their waist as a belt. On their head, they wear a bonnet to which Madeleine added a fringe and some braids. The nose, mouth, and eyes are embroidered.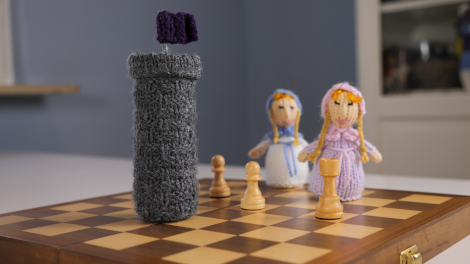 The rooks are the tallest chess pieces at 13.5cm. You start by knitting the tower in one piece. Alan creates the look of individual stones layered on top of each other by breaking up purl stitches with the occasional knit stitch.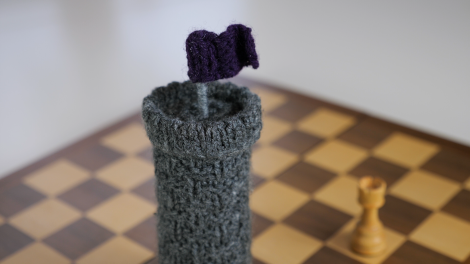 Finally, you create the flag attached to a cotton bud as the flagpole. You cover the flag with hair spray, and while it's still wet, you can shape it to make it look like it is fluttering in the wind.
Alan Dart – KAL
If you would like to join our Alan Dart Knitalong you can do this in our Fruity Knitting Ravelry Group and in our Patron Community Forum! There are already some wonderful projects there for you to see including Jack Frost, the Bridal Bunnies and several of his adorable Cumbrian characters.
Pop Psychology – How the Sunk Cost Fallacy kept Madeleine in denial
In Pop Psychology, Madeleine talks about how the "Sunk Cost Fallacy" and the "Confirmation Bias" lead to wishful thinking and a rather tight jumper.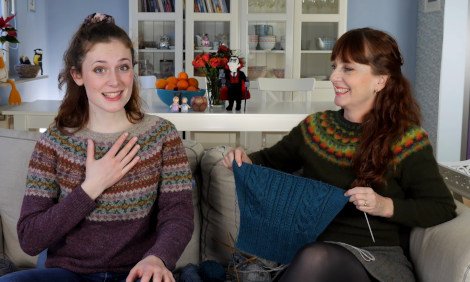 The Sunk Cost Fallacy occurs when we refuse to give up on something that looks like it will fail because we've already invested a lot of resources. As we justify our irrational decision to keep going, we also fall for the Confirmation Bias, where our mind systematically ignores or reinterprets any evidence that contradicts our belief. And it becomes great at finding (or making up) tons of "evidence" that our project will succeed!
Medieval Christmas Market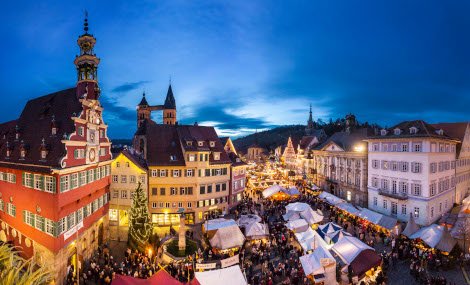 As it's the Christmas holidays, we wanted to share with you the experience of visiting a German Christmas market. For this, we chose the city of Esslingen in southern Germany. The Christmas market is set up in the historic part of Esslingen and has a medieval theme!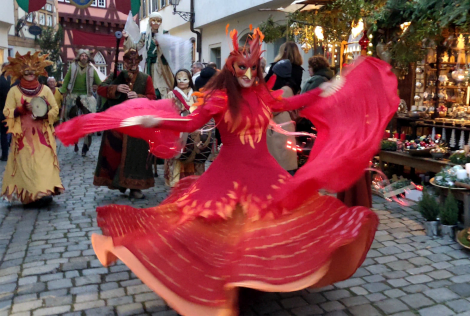 Every day, artists in medieval costumes can be found roaming the alleyways or performing acts on one of the four stages set up across the Christmas market. You can find jugglers, fire eaters, musicians, stilt artists, traditional storytellers, and much more.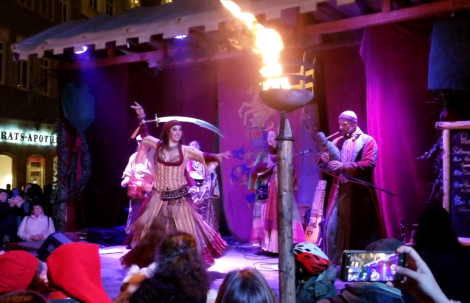 We enjoyed an entertaining performance by the Balkan music group Oro whose dancer, Mirimitschka, spun around to the music while balancing a saber on her head! They certainly knew how to engage a crowd.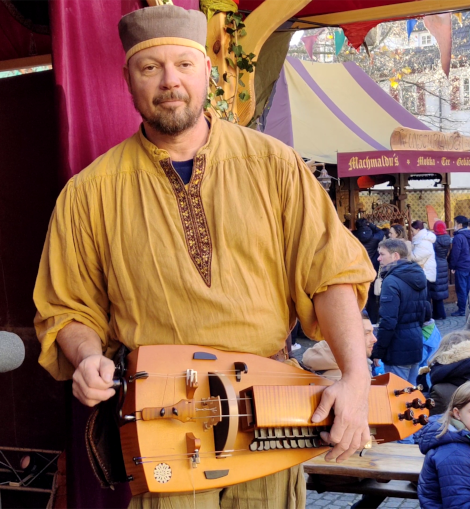 One of Oro's members, Reinitschko, gives us a short demonstration of the hurdy-gurdy. Below, Fleapit, the jester of Esslingen, gets fiery with his juggling skills while also making fun of audience members.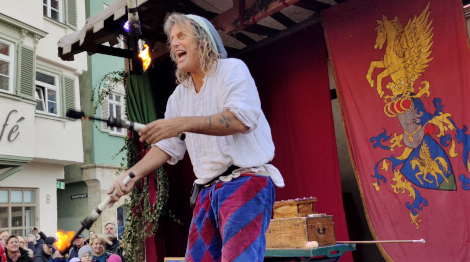 Apart from live performances, the market has many handmade specialties on offer. This lady is making the traditional German "Stockbrot" (stick bread). Making Stockbrot is a fun activity that German children do when they go on outings to the local forest.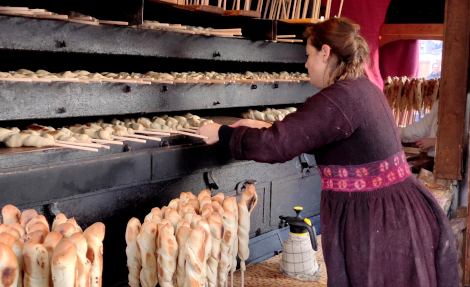 While the adults prepare the dough, the children look for a long stick to carve. Then the dough is wrapped around the stick and held over a campfire. Yum!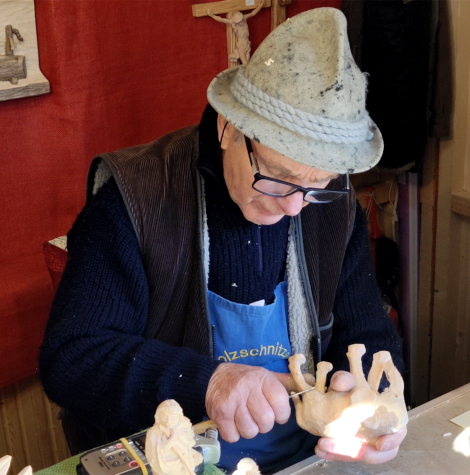 Meet Helmut Höschle, who has been carving beautiful, detailed wooden figures by hand for over 40 years. He can recreate almost anything if he has a photo of it, but his most frequent projects are nativity scenes.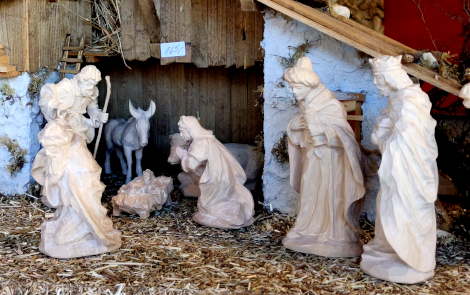 We also spoke with Andy Kingl, a scrimshaw artist who creates detailed motives ranging from nature scenes to animals on bone, mammoth ivory, or similar materials.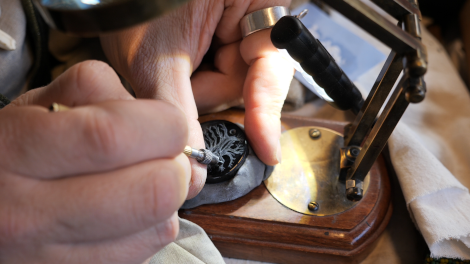 These images are mainly made up of tiny dots, but he uses lines to depict hair and fur.
What we're wearing
Andrea is wearing her Samphrey by Marie Wallin during the interview and her Bohus Stickning design the Wild Apple by Kerstin Olssen on the couch.
Madeleine is wearing her Bressay by Marie Wallin on the couch.
Music credits