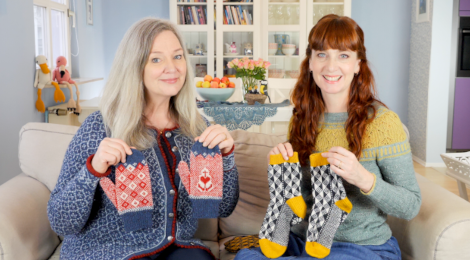 In Episode 129, we feature two very different guest artists who share the same message: Embrace your mistakes as opportunities for innovation! Our main interview is with Erika Knight, a well-known knitwear designer who has published many books on knitting, crocheting, and crafting. Ashley Hribar is a brilliant concert pianist. In our makers segment, he demonstrates how even classical pieces leave room for improvisation. On the couch, we are joined by my good friend Sofia Capelle. She shows us her newest designs inspired by her recent pilgrimage on the St Olavsleden trail in Scandinavia. In Bring and Brag, I talk about my Dark Wing shawl by Romi Hill, and in Under Construction, Madeleine explains how she put together her chess board.
Knitwear Designer – Erika Knight
Erika Knight is an iconic British knitwear designer. Last year we visited her studio in the picturesque seaside town of Hastings, UK. Apart from authoring numerous knitting and crochet books, she's consulted various craft brands and developed many yarns over the years.
More recently, Erika developed the colour palette for Rowan's Pebble Island yarn and then designed the Pebble Island collection to go with it. The fleece comes from a single flock of Merino sheep that graze Pebble Island which is located in the Falkland Islands. The colours are inspired by the landscape and all work well together. So, you can mix and match them as you like.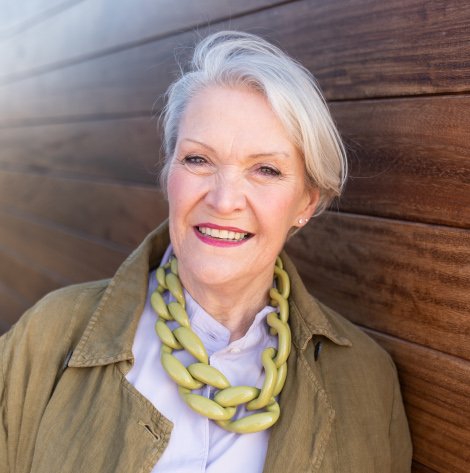 In the 80s, Erika had a very successful fashion label called 'Molto', which produced hand-knit sweaters for high-end fashion houses. She was employing 100s of women who hand knitted these sweaters. These women taught Erika the fine finishing and tailoring details in knitting.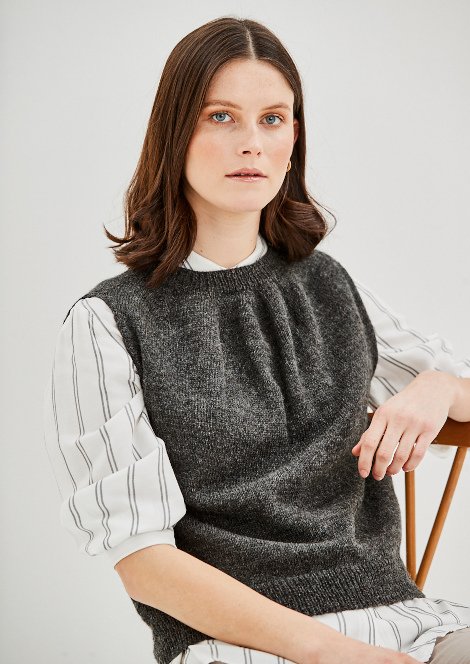 Erika's underlying aesthetic is one of simplicity and she likes to show off her designs with simple colours. She is inspired by everything around her, noticing regular patterns and how they are disrupted. She usually keeps her palette neutral with the occasional pop of bright colour.
Erika also demonstrates how she works with swatches or even paper copies of swatches to quickly try out new ideas on a doll.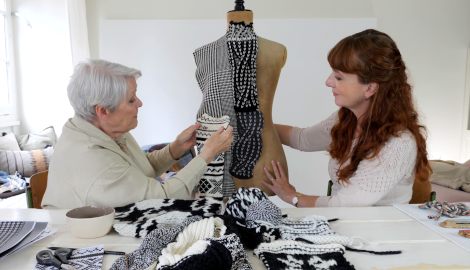 Erika has watched the woolen industry change a lot over the years. Throughout this time, she has lived by the motto 'every fault is a fashion.' And so she encourages us as knitters to view our mistakes as opportunities for creativity and innovation.
Finding Erika Knight
Patron Discount – Erika Knight
Erika Knight is offering Fruity Knitting Patrons a 25% discount off all patterns in her Ravelry store. Patrons can find the details here.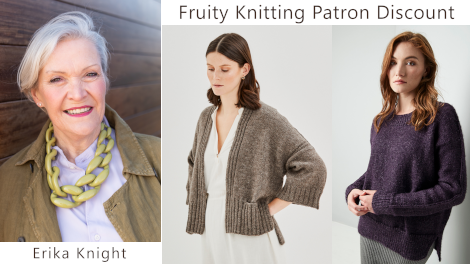 Patron Discount – Rowan
Rowan is kindly offering Fruity Knitting Patrons a 40% discount of the Pebble Island Yarn and accompanying patterns when purchased together from their online shop. Fruity Knitting Patrons can find more details here.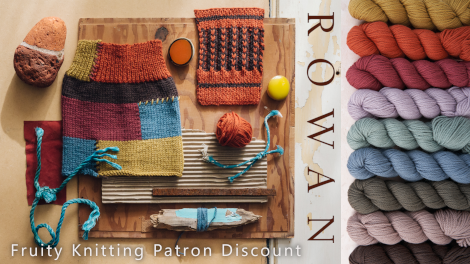 Sofia Capelle – Heart of the Forest
During her recent pilgrimage along the Scandinavian St Olavsleden trail, Sofia was inspired to knit her newest pattern, Heart of the Forest. It comes as a hat, a pair of mittens and a pair of socks. The trail goes through large forests, over mountains, and along lakes and rivers.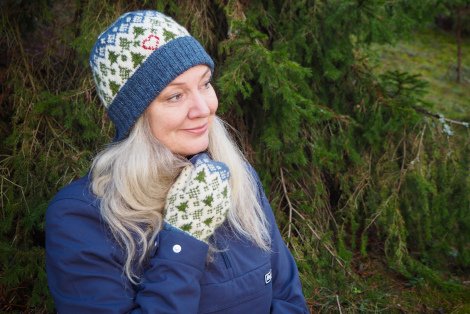 After going through a difficult time in her life, this pilgrimage helped Sofia heal. She describes how in the woods, nothing is false. Everything is what it seems to be. A tree is a tree, a stone is a stone, and a fox is a fox.
She would feel the rhythm of her heart and the rhythm of her footsteps as she walked along the soft paths of the forest. So her new pattern is covered in trees, and a little heart is hidden among them, safe and sound.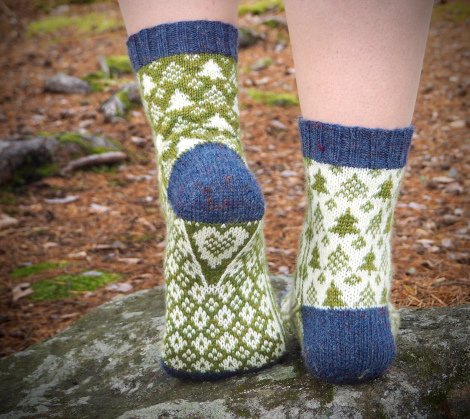 On the sock, the heart is hidden under the foot. Each step serves as a reminder of our heart which pumps life through our body and keeps us warm.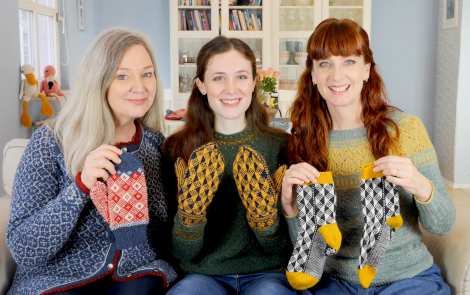 Sofia also talks about her gorgeous Faith Hope and Love mittens as well as her Shine socks. The latter are based on her Shine mittens which Madeleine knitted and talked about back in Episode 114.
Patron Discount – Sofia Capelle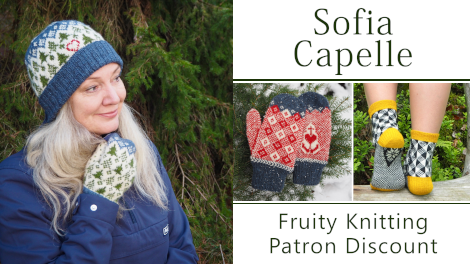 Sofia is kindly offering Fruity Knitting Patrons a 25 percent discount off all self-published patterns in her Ravelry store. Patrons can find more details here.
Makers – Ashley Hribar – Pianist and Composer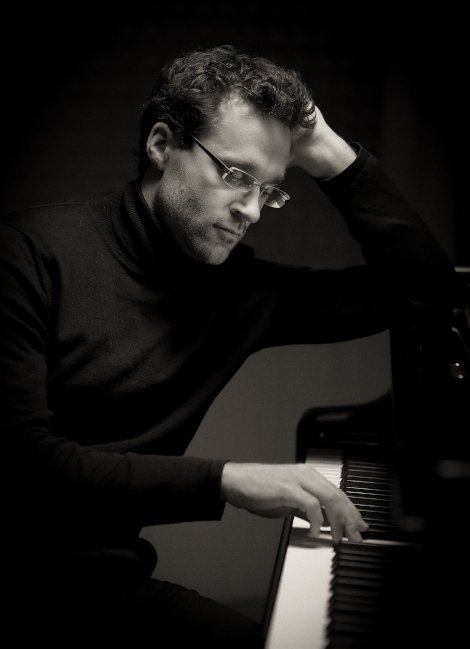 Our second featured guest is a maker of music. Ashley Hribar is an Australian pianist and composer. He is also an old friend from my time studying piano at the University of Adelaide, Australia. Although trained as a classical pianist, Ashley loves to explore various music genres such as Classical, Jazz, Ethnic, Electronica, and Ambient music. He skillfully incorporates these genres into his improvisations and compositions.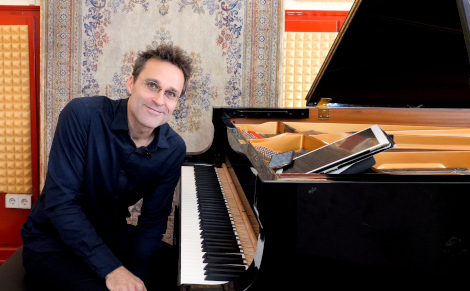 Unlike jazz musicians, classical musicians tend to strictly follow the composer's notation. But Ashley argues that classical composers left little invitations for the performer to improvise. He goes straight on to demonstrate this in several popular classical pieces starting with the Fruity Knitting Intro Theme – also known as Prelude No. 3 in C-sharp major by J.S. Bach !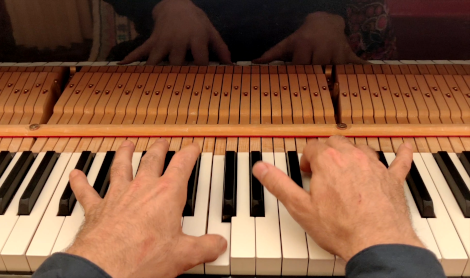 There is an interesting classical tradition in which composers borrow melodies from other composers and write variations on them. Niccolò Paganini's (1782-1840) 24th caprice is one example. Brahms wrote fast and challenging variations of this piece to show off the pianist's dexterity.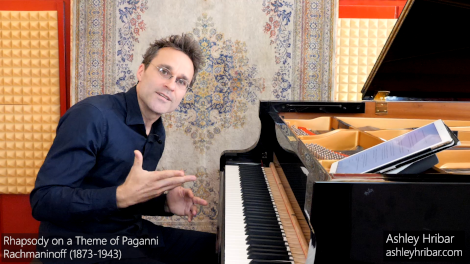 On the other hand, Rachmaninoff (1873-1943) inverted Paganini's theme and slowed it down. His version is very romantic. Ashley also performs his own Paganini Variations, a musical collage of various genres, including jazz, bossa nova, walking bass, and avant-garde!
Ashley ends his performance with a quote by Rollo May: Creativity arises out of the tension between spontaneity and limitations, the latter (like the river banks) forcing the spontaneity into the various forms essential to the work of art or poem.
Finding Ashley Hribar
Fun performances
Under Construction – Dark Wing Shawl by Romi Hill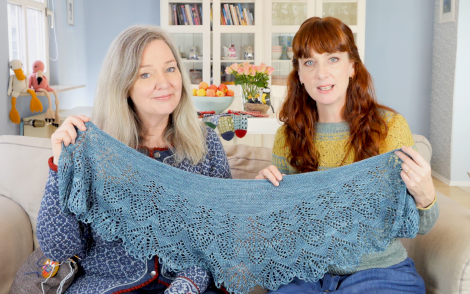 I am working on the Dark Wing lace shawl by Romi Hill. It will be a birthday present for a special lady who is turning 84. She has white hair and blue eyes, and I think this colour will look great on her. The shawl is called Dark Wing because it's inspired by the character Maleficent from the story of Sleeping Beauty.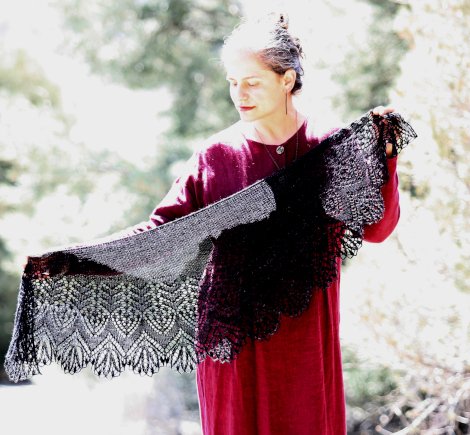 Since childhood, Romi has loved fairytales, and the movie Maleficent touched her in a way that no other fairytale had before. That's because it celebrates loyalty, strength, the power of true love, and the ability to change your own fate. So, Romi designed this shawl with its midnight colour and delicate featherlike lace as a homage to all that is both dark and light.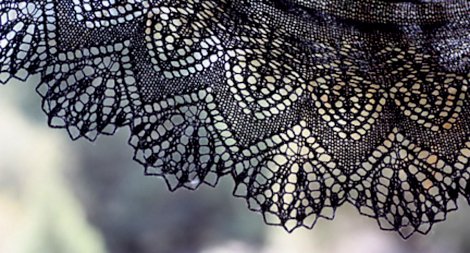 I am using hand-dyed yarn by Skudderia. It's a merino and silk blend. The shawl is designed to use a single skein of yarn.
You work the garter stitch section top-down using Short rows, creating the crescent form. After that, the lace section is knitted back and forth in regular rows.
Fixing mistakes with lace knitting can be challenging. So I also share some of my methods for keeping track of the pattern and correcting some of the most common errors in lace knitting.
Bring and Brag – Madeleine's Chess Board
Madeleine is knitting Alan Dart's Chess Set and she has finished knitting and putting together the chess board! I interviewed Alan Dart in episode 118. The chess board is supposed to measure 57cm2 with a gauge of 20st to 26 rows. Madeleine's gauge was larger so her board measures 64cm2.
To create the checkered pattern, you knit 8 columns of black and white squares. Then you sew them together using mattress stitch, which creates an invisible seam. After that, you knit the edging, which has a single purl row for the fold line. Madeleine chose a red wine colour for the edging.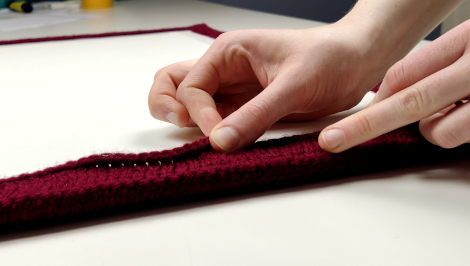 Once all the knitting and sewing was done, Madeleine had to line up the fold line with the edge of the board and then glue the knitting onto the board.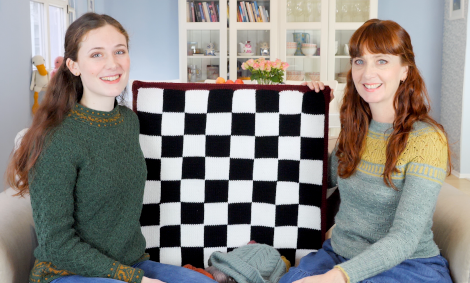 The chess board is very solid and a little heavy because of the canvas she chose. But Madeleine is very happy with the result.
What we are wearing
Andrea is wearing her Corbis Sweater by Natasja Hornby during the interview. On the couch she's wearing her Zweig, Madeleine is wearing her Catherine Parr and Sofia is wearing her Signes Jacket
Music credits
J. S. Bach, The Well Tempered Klavier, Prelude No. 3 in C-sharp major, BWV 848, performed by Kimiko Ishizaka, Creative Commons Attribution 3.0
Philip Glass, Piano Works – Études No.18, performed by Víkingur Ólafsson, Provided to YouTube by Universal Music Group