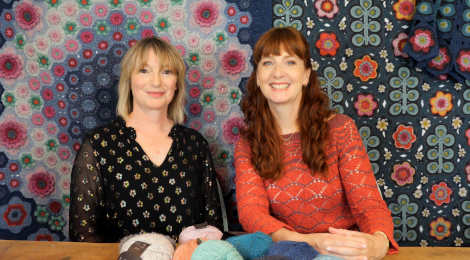 We are featuring two great guests in Episode 130. Our feature interview is with Sue Maton, the crochet designer behind The Mercerie. I only recently came across Sue's work. I was instantly impressed with the beauty of her designs and the depth of her knowledge as a visual artist and teacher. Sue is very skilled at describing her artistic process. During the interview, she shows us several playful activities that help to demystify the creative process. Our second guest is a Knitter of the World from South Africa. Noma Ndlovu is the designer behind Bigger Than Life Knits, and she has a fascinating knitting story. On top of that, I talk about my new sweater project, and Madeleine gives an update on her knitted chess set and rug hooking.
The Mercerie – Sue Maton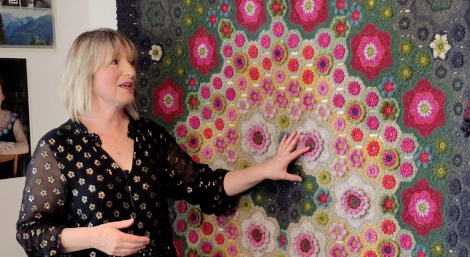 Sue's interview is in two parts and both parts are jam-packed with information. Sue is very skilled at describing her artistic process. In part one, she shows us how she takes sections of paintings that inspired her, and using her kaleidoscope app, she mirrors them four ways which forms a balanced image, and then she uses that image as the basis for a new crochet design. It's a fascinating process to watch and it will get you itching to try it out yourself.
The above Kaleidoscope image was the starting point and inspiration for Sue's Wallflowers Blanket pictured below.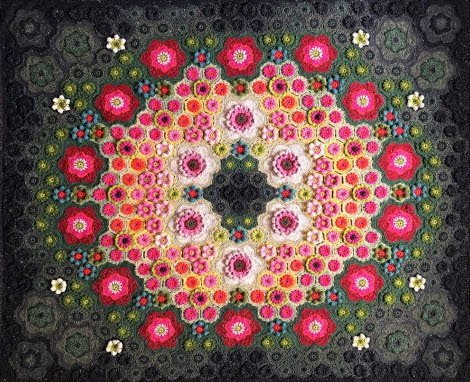 Sue is also a great teacher. She loves to encourage people to move away from just mechanically reproducing her own designs and instead to use her designs as a starting point for people to create their own ideas and designs. In part two of the interview, Sue shows us a series of playful activities that help to demystify the creative process. If you are a crafter that thinks of themselves as being uncreative, you will love this interview.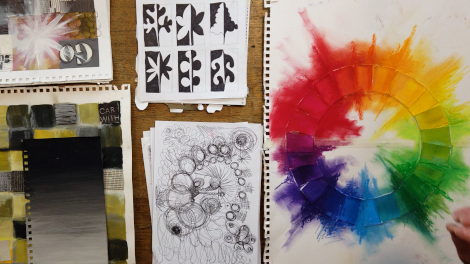 Two of Sue's heirloom blankets use the Rowan Felted Tweed. Sue shows us new ways to look at and work with colour using the large pallet of heathered shades the Rowan Felted Tweed offers. As she puts together different colour runs, Sue talks us through her thought process.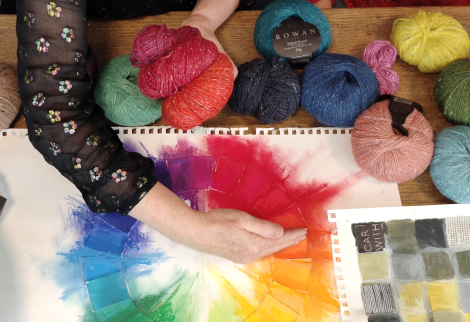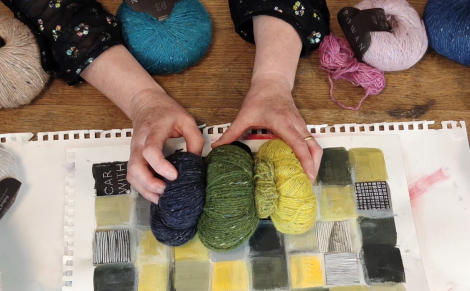 Sue's work is an unusual gift for the crafting world. She thinks deeply about human nature and behavior and how it applies to our hobbies and crafts. The interview includes her ideas about resistance, fear, and value in crafting. She brings simplicity and clarity to abstract concepts, so you'll find the interview invaluable as a learning resource.
Finding The Mercerie – Sue Maton
Patron Discount – The Mercerie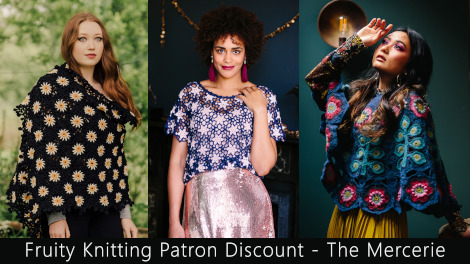 Sue is kindly offering Fruity Knitting Patrons a 25% discount off all her self-published designs in her online Ravelry store. Patrons can find the full details of the discount here.
Knitters of the World – Noma Ndlovu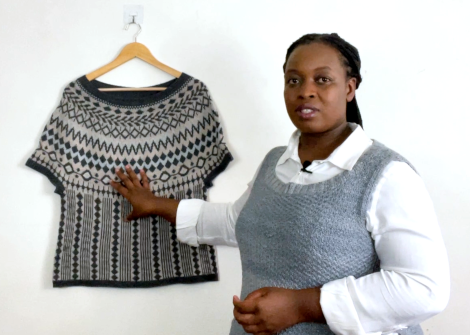 Noma Ndlovu is the South African designer behind Bigger Than Life Knits, and she has a fascinating knitting story. She was knitting professionally from age 7 under her Aunt's direction. Noma needed to match her Aunt's knitting gauge to knit the button bands and second sleeves on hand knitted custom orders. Most people's story of how they learnt to knit is fairly similar, so it was a highlight to hear Noma's unusual knitting story.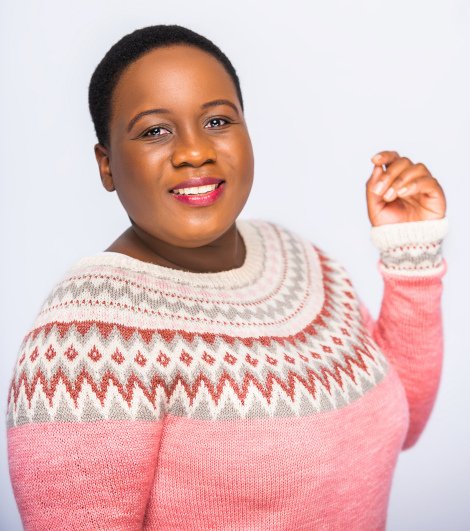 Having started her training so early Noma is a very technically proficient knitter. But she is also a very thoughtful and intelligent designer who caters to the extreme ends of the size spectrum, with an emphasis on achieving a very good fit and developing a capsule wardrobe. We think you'll love her designs.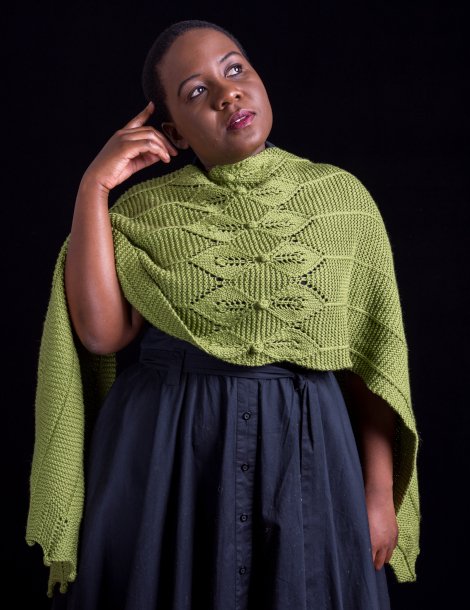 Finding Bigger Than Life Knits – Noma Ndlovu
Patron Discount – Bigger Than Life Knits
Noma is kindly offering Fruity Knitting Patrons a 25% discount off her self-published patterns in her Ravelry store. As Noma said, she designs sweaters, shawls, socks and accessories. And she loves to design pieces which are easy to work on and at the same time are exciting and not tedious for the knitter. Her designs have to meet the criteria of being functional, simple and elegance. Patrons can find the full details of the discount here.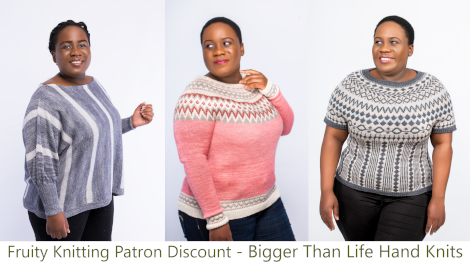 Under construction
Maeron – Natsja Hornby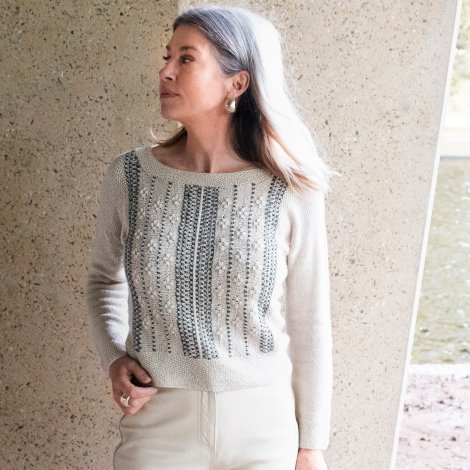 Here is the lovely Natasja Hornby modeling her design Maeron. I fell in love with the sweater as soon as I saw it. It's a modern take on the intricately embroidered bodices found in folk costumes from various cultures. As many of you know by now, I love costumes!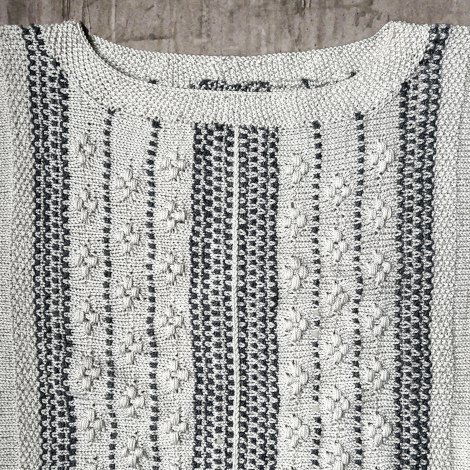 Here is a close-up picture of the gorgeous stitch pattern. It has a very clever sideways construction to get the patterning in vertical panels. That's done using a contrast colour in slipped stitches or mosaic knitting. The little flowers are created by wrapping the yarn multiple times around a cluster of 3 stitches. The effect looks fantastic.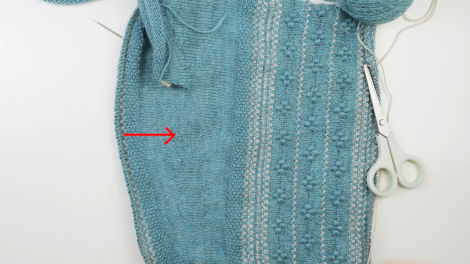 The sweater's construction is brilliant and makes for an enjoyable knitting experience. Natasja uses a technique that was new to me, the double-sided provisional cast-on. The body of the garment is knitted in a sideways direction, and you use a double-sided provisional cast-on along the sides of the body. This allows you to work both the front and back pieces seamlessly. In the picture above, you can see that the side seam is invisible.
Chess Set – Alan Dart
Madeleine is still working on her knitted chess set, a design by the UK toy designer Alan Dart. All chess pieces are knitted with DK weight yarn on 3 mm needles. Instead of sticking with the traditional black and white, Madeleine has chosen some additional colours to give the chess pieces more individuality. You can take this as far as you like and get creative, but their allegiance must be clearly visible.
The pawns enjoy the most freedom with their fashion choices. The white pawns can wear any pastel color, while the black pawns wear dark smoldering colors. But Madeleine wanted the King and Queen to be the trendsetters for the higher-ranking pieces in the back row. This is so the chess set doesn't look too chaotic.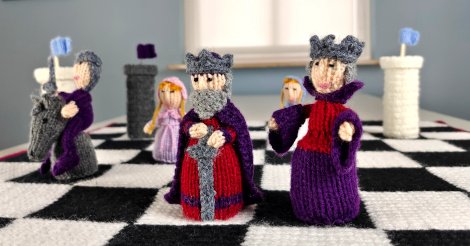 The black King and Queen are wearing a combination of royal red and dark purple. So, the black rooks have purple flags, the black knights carry purple armor, and the bishops will probably wear red stoles.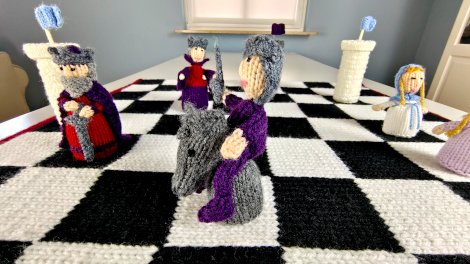 The white rooks have blue flags – a little hint as to what colours the white King and Queen will be wearing. So far, the black and white rooks and the black King, Queen and Knight have been finished. The knitting is progressing slowly but steadily!
Bring and Brag
Rug Hooking – Lady and her dog – Deanne Fitzpatrick
Madeleine has tried her hand at rug hooking. The design below, called 'Lady with her Dog,' is a kit by the Canadian artist Deanne Fitzpatrick, whom we interviewed in Episode 128. Madeleine has modified the design to be our dog Jack and her walking in the woods. It's interesting to compare hers with the original. Madeleine used most of the yarn provided in the kit, but she also used our leftover scrapes when changing the colour.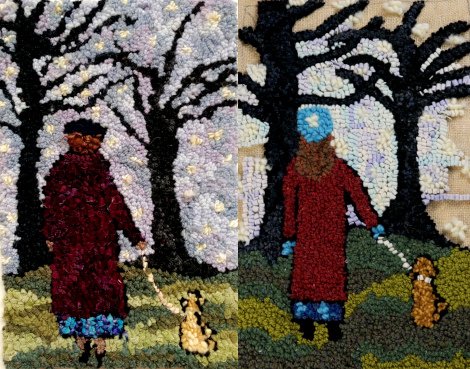 For example, the original kit had a curly, glossy orange yarn for the lady's hair. Madeleine's hair is brown with a little bit of red, so she put together two strands of brown and one strand of orange yarn to get a better match. She also made the hat into a beret to look like one of her favourite hats. The little dog also looks more like our Jack; he now has a collar.
Rug hooking really is like painting with yarn. Creating a lovely picture is easy if you already have some painting skills. Variegated yarns are perfect because they do the work for you by adding different specks of colour. It's also fun to combine several strands of thinner yarn in different colours for a heathered effect. Since it was Madeleine's first-time rug hooking, she shares her experience as a beginner and summarizes the advice she got from Deanne Fitzpatrick.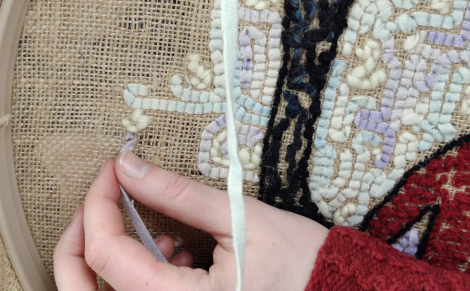 Fruity Knitting Live – Audio Podcast – Green Gable Alpacas
Every month, we have a Live Event with a special guest for our Shetland Patrons. The event gets recorded and edited and is available as an audio podcast for our Shetland and Merino Patrons. Last Sunday we had a Live Event with Natasja Hornby whom we interviewed in Episode 127.

In January, our guest was Janet from the farm Green Gable Alpacas on Prince Edward Island. Janet has become an authority on breeding alpacas for superior fleeces. For years, she has been sending fibre samples from each of her animals to a special lab for analysis. Now she has a massive data bank that helps her make decisions on breeding and designing her yarn. If you are a Merino or Shetland Patron, make sure you listen to her audio interview, I'm sure you'll find it fascinating.
Patron Discount – Green Gable Alpacas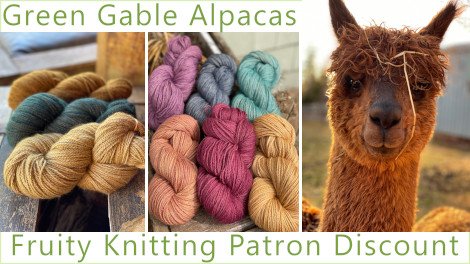 Janet is offering Fruity Knitting Patrons 20% off the products in her online store. She has a beautiful range of hand-dyed custom-milled alpaca yarn that is exceptionally soft. She also sells ready-made Alpaca socks, Alpaca insoles, and other alpaca products. Patrons can find the full details of the discount here.
Support Fruity Knitting by becoming a Patron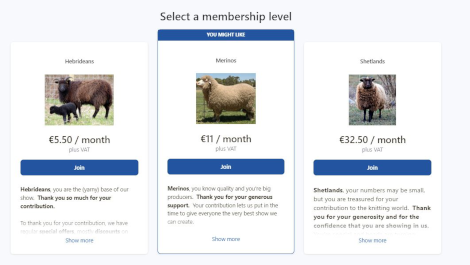 We are entirely dependent on the financial support of our Patrons to produce Fruity Knitting. We don't sell anything or receive money from advertising or sponsorship. Both Madeleine and I work full-time to keep Fruity Knitting going. If you are watching the show, please support our work by becoming a Patron. It is easy and flexible, and you can pick your level of support by going to this link. Thank you very much to all our wonderful Patrons who are making this show possible!
What we are wearing
Andrea is wearing her Aquila by Louisa Harding in the interview and her Dove by Louisa Harding on the couch. Madeleine is wearing her Lantic by Sarah Hatton.
Music Credits
J. S. Bach, The Well Tempered Klavier, Prelude No. 3 in C-sharp major, BWV 848, performed by Kimiko Ishizaka, Creative Commons Attribution 3.0
Claude Debussy, Arabesque no. 1, L. 66, performed by Simone Renzi, Creative Commons Attribution Non-Commercial
R. Kehmose, Sechaba from the album Hope, performed by the Soweto Gospel Choir, ℗ 2022 Shanachie Ent. Corp.