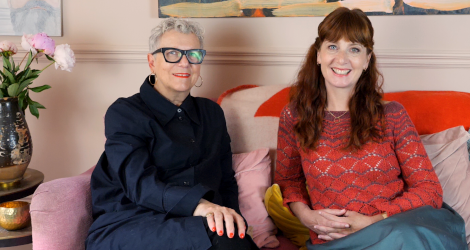 In Episode 131 we have a terrific double feature interview with the celebrated British knitwear designer Debbie Bliss. Debbie has worked for over 30 years in the handknitting industry and has been awarded a Member of the Order of the British Empire for her services to the handknitting and craft industry. In the first interview, Debbie takes us through her artistic process and huge creative output. In the second interview, we chat about her personal life experiences. Some are exciting, some sad, but all are accompanied by Debbie's wonderful sense of humor. These are amongst our best interviews, so we hope you enjoy them. In Bring and Brag, I show you my finished Maeron sweater and Madeleine shows off the entire aristocracy (high-ranking pieces) of her knitted chess set.
Debbie Bliss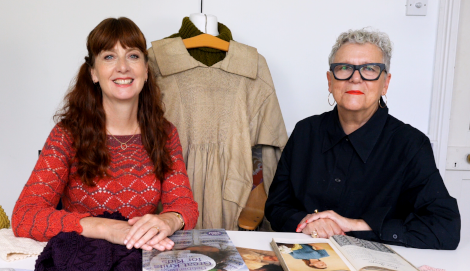 Back in 2000, I bought Debbie's book Great Knits for Kids, which at the time was the most impressive knitting book I'd ever seen. Every design looked so gorgeous and complicated. The photography and styling was also new and advanced. I couldn't believe that handmade knitwear could look so beautiful, and that's what got me back into knitting again. So, it felt a bit surreal when I got to interview Debbie 20 years later!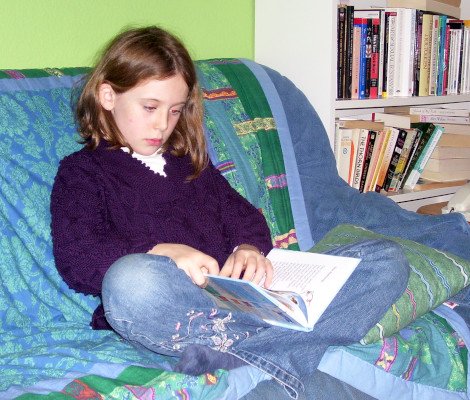 Debbie is one of the best known and most published hand knit designers in the U.K. She's published 35 books, several booklets, and has even had her own knitting magazine. In part one of our interview, Debbie talks about her early knitting and designing mentors and how her designing has evolved over the years.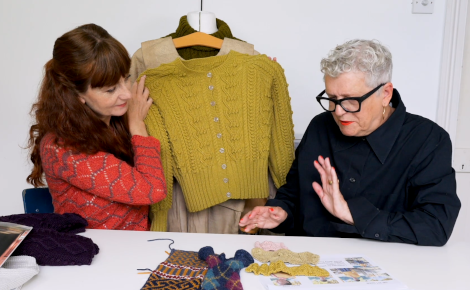 When Debbie first started designing for magazines, she was drawn towards the 1940s and 50s style, which meant she had to learn a lot about shaping and tailoring garments to fit well. This gave her the stable groundwork for compiling patterns for the rest of her career.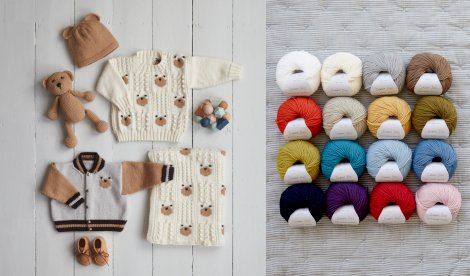 Debbie has created many designs for babies and small children. As a mother, she not only wants her designs to be beautiful, but they must also be practical. Envelope necks and button fastening are common features in her baby designs.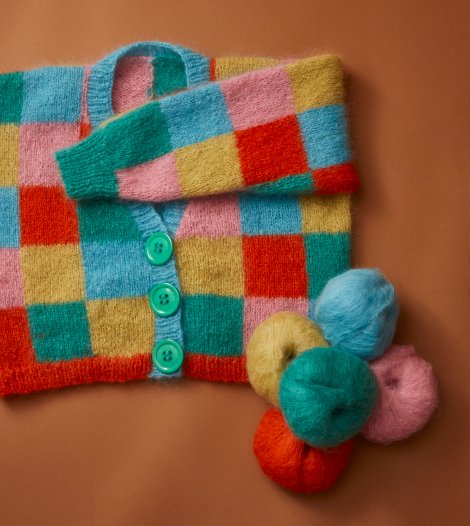 Debbie has also developed many yarn ranges over the years. Above, you can see her "Nell Mohair" yarn which comes in many intense, bright colours. It looks gorgeous in lace knitting but is also well suited for intarsia because the fluffy fibers close up all the little holes.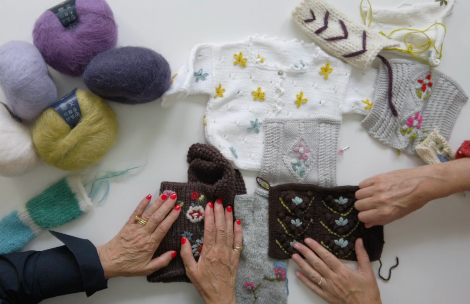 Debbie also likes to add embroidery to her designs and she recommends starting with daisy stitch for beginners. She particularly likes it when the embroidered elements tie in well with other textures like bobbles or little eyelet holes.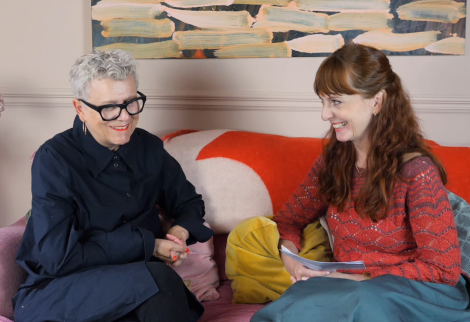 In part two of the interview, we chat about her personal life experiences. That interview is full of funny stories of Debbie's travels around the world, doing lectures and workshops, and all the things that went wrong in a hilarious way.
Finding Debbie Bliss
Patron Discount – Lovecrafts – Debbie Bliss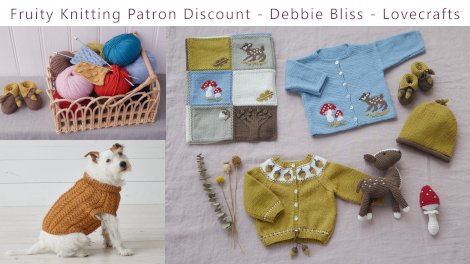 Lovecrafts is offering Fruity Knitting Patrons 15% discount off all Debbie Bliss yarns and patterns. there's a large range of yarn that comes under the Debbie Bliss name, including a variety of blends and weights to choose from. Each yarn range comes with a collection of gorgeous patterns. Patrons can find all details here.
Thanks very much to Debbie and Lovecrafts!
Bring and Brag – Maeron by Moonstruck Knits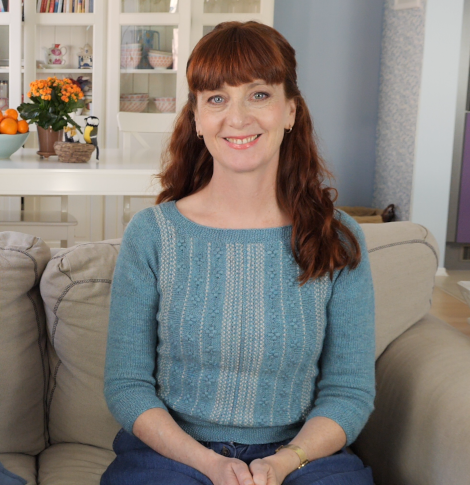 I have finally finished my Maeron by Natasja Hornby from Moonstruck Knits! I used John Arbon's Yarnadelic in the colourways Woman in Blue and Ordinary Joe. Due to some gauge issues which I discussed in Episode 130, I had to rip out and reknit most of my Maeron. It was worth it though, because now it fits perfectly.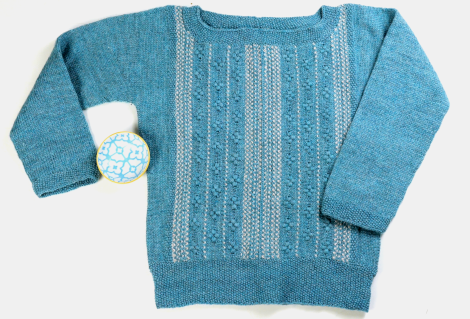 The gorgeous stitch pattern is a modern take on the intricately embroidered bodices found in folk costumes from various cultures. The garment's body is knitted sideways, so the patterning ends up in vertical panels. The rows that include the white yarn use mosaic knitting. The little raised flowers are created by wrapping the yarn multiple times around a cluster of 3 stitches.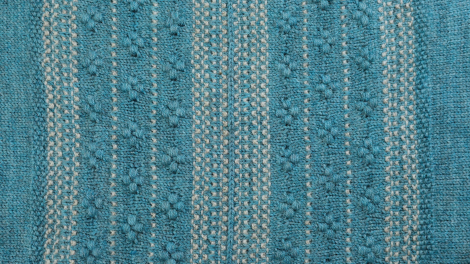 Apart from the raised flowers two more techniques were new to me: The double-sided provisional cast on which gives you an invisible seam and the modified 3 needle bind off which creates a very flat seam. There are many types of 3 needle bind offs and I discuss all of this in detail in the episode.
Under Construction – Madeleine's Chess Set

Madeleine is still working on her knitted chess set which is a pattern by Alan Dart who we interviewed in Episode 118. She's finished all the black and white aristocracy apart from one white knight who still needs to be sewn up. Madeleine is delighted with how the two sides have turned out so far and now all that's left are the black and white pawns.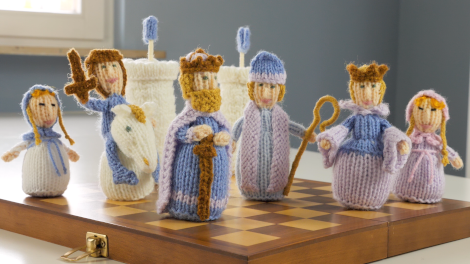 Madeleine has already discussed most pieces in previous episodes but the black and white bishops are new. They war simple robes with either a red or purple stole around their neck. They also carry a staff, which is easy to make. You just take a white pipe cleaner, add some glue and wrap yarn around it.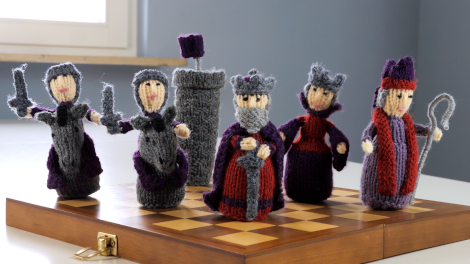 Most of the chess pieces are fairly similar in the way they are sewn up and embroidered. We demonstrate these steps on the white King.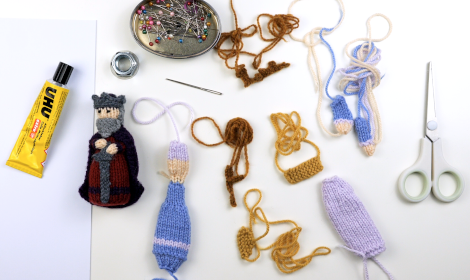 After gluing a metal nut to the base of the King's body you sew up his body and head while adding stuffing along the way. To embroider the face you start with the nose using two vertical stitches making the second one slightly longer. Before embroidering the eyes you have to split the yarn into smaller strands or else the eyes will look too big for his face.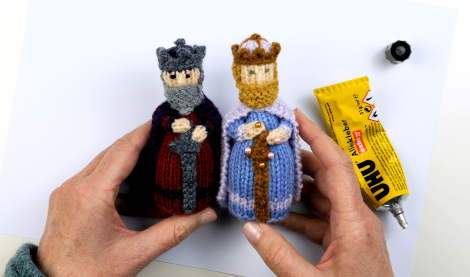 Some of the pieces, like the sword, are glued onto the King. It helps to secure these with pins until the glue has dried properly.
Support Fruity Knitting by becoming a Patron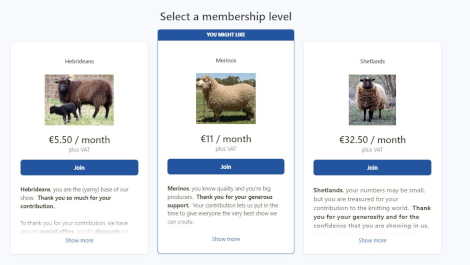 We are entirely dependent on the financial support of our Patrons to produce Fruity Knitting. We don't sell anything or receive money from advertising or sponsorship. Both Madeleine and I work full-time to keep Fruity Knitting going. If you are watching the show, please support our work by becoming a Patron. It is easy and flexible, and you can pick your level of support by going to this link. Thank you very much to all our wonderful Patrons who are making this show possible!
What we are wearing
Andrea is wearing her Aquila by Louisa Harding in the interview and her Maeron by Natasja Hornby on the couch. Madeleine is wearing Celestial by Martin Storey.
Music Credits
J. S. Bach, The Well Tempered Klavier, Prelude No. 3 in C-sharp major, BWV 848, performed by Kimiko Ishizaka, Creative Commons Attribution 3.0
Franz Schubert, Improptu Nr 2 in E Flat Major, from 4 Impromptus, performed by Chiara Bertoglio, Creative Commons Attribution 3.0
Georg Philipp Telemann, Partita in B-flat major, 1. con Affetto, Creative Commons Public Domain
Georg Philipp Telemann, Partita in B-flat major, 4. Vivace, Creative Commons Public Domain