We are excited about Episode 132, which takes you to Switzerland, where we cover the Swiss Yarn Festival 2023! We have assembled a collage of the event, giving you a good idea of what the Swiss Yarn Festival is all about. Our coverage includes an interview with one of the festival founders, Meret Buetzberger. Then there's a series of short vendor interviews with some exciting businesses. We filmed the marketplace, the daily fashion show, and some snippets of the workshops on offer. We also did some Vox Pop (Latin for Vox Populi – Voice of the People), where visitors told us what was special to them about the festival. And, of course, we've included the breathtaking landscape of the Swiss Alps with some drone footage for you to enjoy!
Meret Buetzberber – Butzeria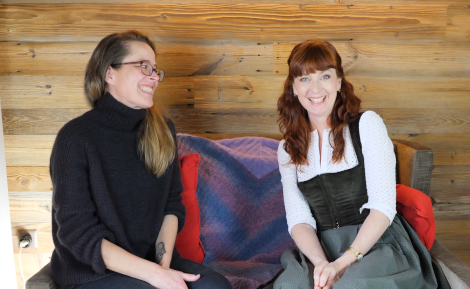 Meret Buetzberger is the designer behind Butzeria and is also known as the Swiss Queen of Double Knitting. She founded the Swiss Yarn Festival (SYF) together with Asita Krebs from Sidispinnt back in 2019. Meret talks about some of the highlights of this year's festival which included a daily fashion show, a lecture called "Icelandic Wool and Women" as well as several fun workshops.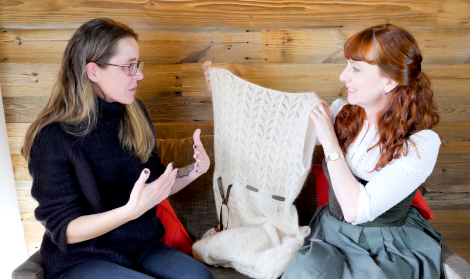 Meret shows us some of her latest designs, one of which is a spectacular lace wedding dress! The wedding dress was also included in the fashion show.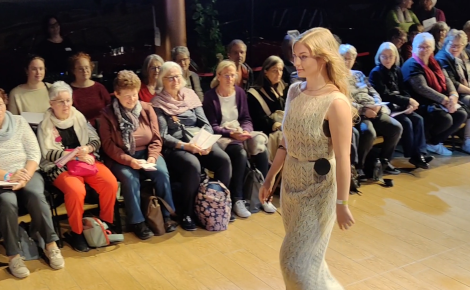 Madeleine also brushes up on her Swiss German as Meret teaches her how to buy yarn like a local.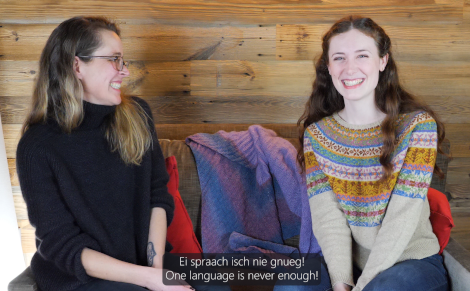 Finding Meret
Swiss Yarn Festival 2023
The festival is held at the Riverside Event Hotel near Glattfelden, which was once a spinning mill. Walking around the hotel, you'll still come across some old machinery. The marketplace was built up in three large halls, and the atmosphere was warm and friendly.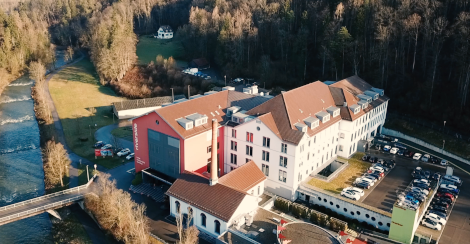 Whenever we needed a little break from the hustle and bustle of the marketplace, we could simply step outside to enjoy a walk along the river Glatt.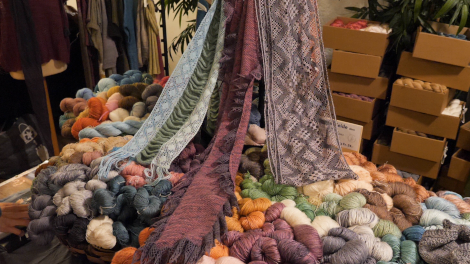 In the marketplace, there was a great selection of vendors. Many represent the four language regions in Switzerland: The French, Italian, and German regions and the Romansh region in the mountains. Coming from outside Switzerland, there were vendors from France, Germany, Italy, the UK, and even Chile in Latin America.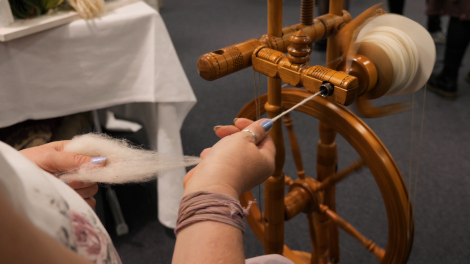 The vendors offered a beautiful range of yarns, some were hand-spun, some hand-dyed and others were from European brands. Many vendors also sold finished handmade products like crafting tools, jewellery for shawls, or felted dolls.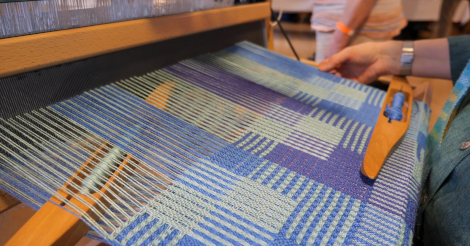 On top of that, there were three days of workshops which covered a wide range of subjects. For example, introductory classes like lace knitting for beginners and how to read a knitting pattern, to specific topics like felting lanterns, interlock crochet, embroidering your knitwear, and fixing mistakes in Brioche knitting.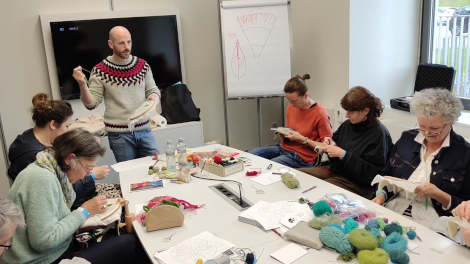 As you walked around the marketplace you could hear a range of languages, including Swiss German, French, Italian, English and, if you're really lucky, Romansch. This linguistic diversity is one of the things that makes Switzerland so unique as a country.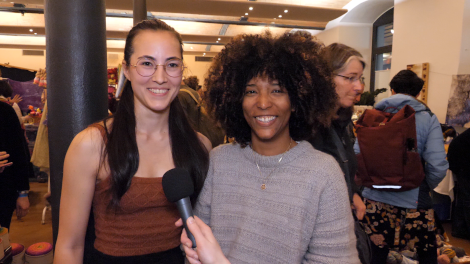 We wanted to share this with you, so we asked visitors to chat about their experience with us – in English and include a couple of sentences in their native language!
Badma Yarns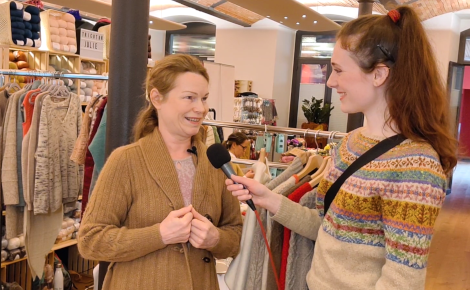 Maria from Badma Yarns aims to make knitting oneself a luxurious cashmere, yak or camel garment more affordable. She is able to do this by working directly with the Mongolian herders and cutting out unnecessary steps in the production chain. Badma Yarns offers natural shades for their yak and camel yarns, while their cashmere yarns come in both dyed and undyed options.
Finding Badma Yarns
Badma Yarns – Patron Discount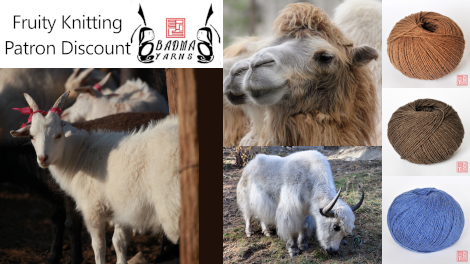 Maria from Badma Yarns is offering Fruity Knitting Patrons 10% discount off all yarns from her online shop. Thank you to Maria for this wonderful discount!
Rauwerk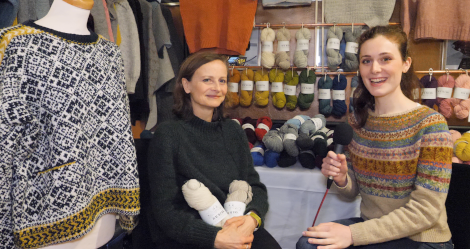 Rauwerk is a little shop in Munich that values animal well-fair and sustainability. They aim to source and process the raw materials as locally as possible. Rauwerk has its own label, which sells yarns made from 100% Bavarian Merino wool. They offer 6 natural shades, as well as a variety of plant and acid-dyed yarns. Additionally, their shop features other select yarn labels whose values align with Rauwerk's ethos.
Finding Rauwerk
Rauwerk – Patron Discount
Christine from Rauwerk is offering Fruity Knitting Patrons a 15% discount off all yarns in her online shop. Thank you very much to Christine for this generous discount!
Biches et Bûches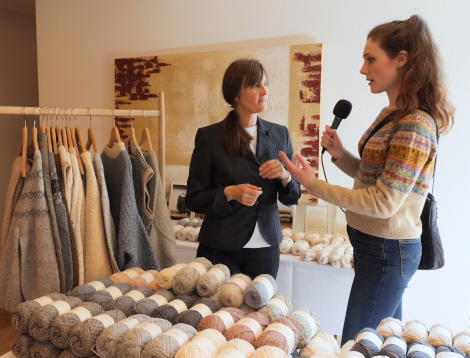 Astrid started Biches et Bûches after she moved from Scandinavia to the Burgundy region of France. Here she refurbished an old barn and turned it into the atelier for her Biches et Bûches. Astrid's passion is to design sweaters using muted colours and simple shapes. She's also designed her own yarn range to complement her Scandinavian, country living aesthetic. With her yarns, Astrid aims for a Scandinavian look but a softer feel. Her yarns are spun by a family mill in Scotland and a spinning mill in Italy.
Finding Biches et Bûches
Save The Yarn
Gry started her company Save The Yarn with a mission to reduce unnecessary waste in the textile industry. She does this by repurposing left-over yarns (normally used for machine knitting) that would otherwise be destroyed due to overproduction. This allows Gry to offer a range of high quality yarns at a reduced price.
Finding Save The Yarn
Colori Naturali
Maria from Colori Naturali owns a hand-dyeing laboratory in Abruzzo, Italy. Together with some friends she founded the business with a mission to capture the colours of her country's landscape by using natural dyes.
Having previously worked as a chemical processing engineer, Maria deeply understands the chemistry of natural dyeing. She shares some of this knowledge with us during the interview.
Finding Colori Naturali
Website: www.colorinaturali.eu
Instagram: colorinaturali
Beautiful Switzerland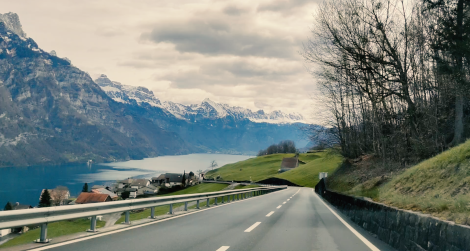 We wanted to share the breathtaking landscape of the Swiss Alps with you. So before the festival started, we drove past the city of Zürich to the Walensee, where we captured some stunning footage of the area, including some drone footage.
We drove up a tight and windy road to reach an impressive cascade of three waterfalls called the Seerenbach Falls. The cascade reaches a total height of 585m and feeds into the calm, blue Walensee Lake. A tiny picturesque chapel overlooking the lake is just a two-minute walk away.
Under Construction
Good Grandpa Cardigan by Caidree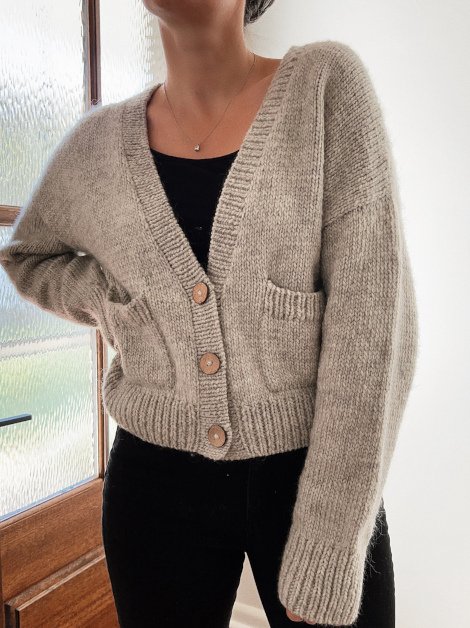 Madeleine is finally knitting up her Signature Aran by Fleece & Harmony in the colourway Autumn Birch. The Good Grandpa Cardigan by Caidree is a casual, oversized cardigan with two little pockets at the front. It's worked top-down and has positive ease, meaning it's meant to be oversized. Madeleine still has to finish the arms, the button band and add pockets.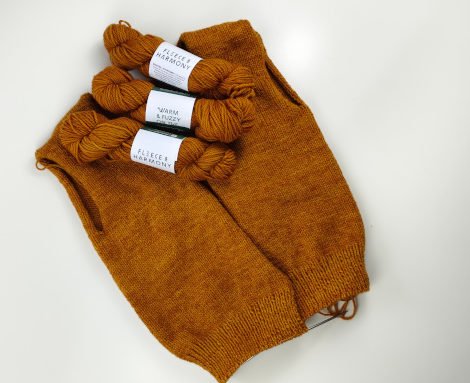 Joni by Natasja Hornby
Andrea is working on a summer top called Joni, that was recently published by Natasja Hornby. She's using a Danish yarn from the company CaMaRose. It's a linen yarn made from 100% organic flax fibres.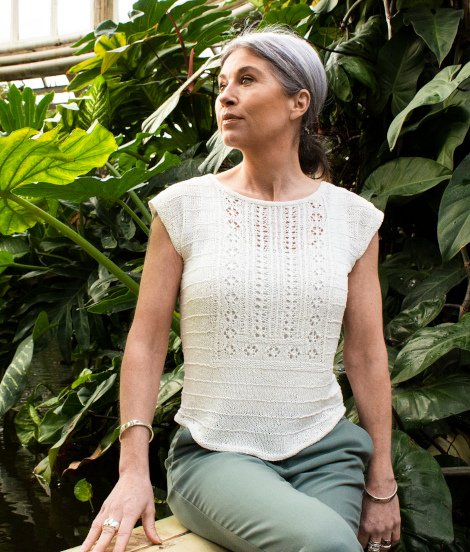 The yarn itself is a thin thread that has been knitted into a fine tube making the fiber softer than if it were just a single thread. Flax comes from the stem of the flax flower and this makes the yarn very robust and durable. Apparently, it softens a lot when you wash it and also with wear.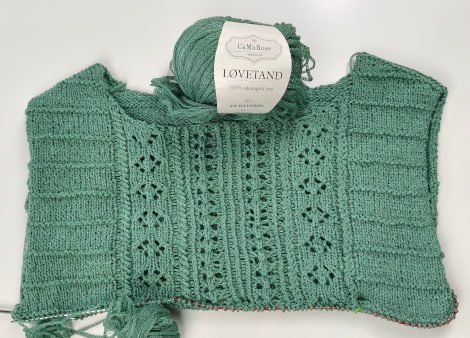 The design is worked seamlessly from the top down, starting with the back shoulders which are shaped using short rows. Then the back is worked flat until the underarm, the stitches for the front shoulders are picked up and the front is worked flat until the underarm. At the underarm the front and back are joined and worked in the round until you get to the hem which is shaped using short rows.
Support Fruity Knitting as a Patron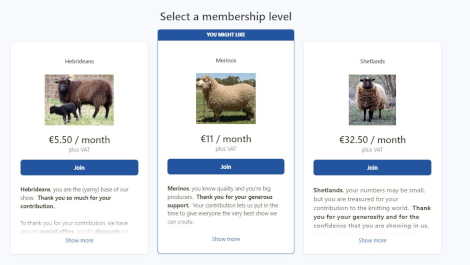 We are entirely dependent on the financial support of our Patrons to produce Fruity Knitting. We don't sell anything or receive money from advertising or sponsorship. Both Madeleine and I work full-time to keep Fruity Knitting going. If you are watching the show, please support our work by becoming a Patron. It is easy and flexible, and you can pick your level of support by going to this link. Thank you very much to all our wonderful Patrons who are making this show possible!
What we are wearing
Andrea is wearing her Manzanita Tee by Romi Hill on the couch. Madeleine is wearing her Lovage by Marie Wallin at the SYF 2023 and her Audrey in Unst by Gudrun Johnston on the couch.
Music Credits
Image Credits