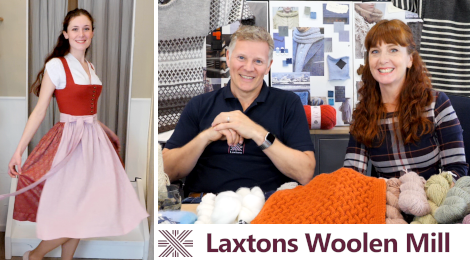 We've put together an interesting program for you in Episode 133 with very contrasting guests. Our main interview features James Laxton, who's the 4th generation owner of Laxtons woollen mill, in Bradford, Yorkshire. Laxtons produces quality worsted and fancy yarns. They're also involved in some very innovative projects, like creating high quality yarns from recycled fibres and thread waste and their working on producing ropes made of wool to replace the polypropylene robes used in the fishing industry. Our 'Knitter of the World' is Sara Elizabeth Kellner from Rabbit Hole Knits who recently published the book 'Wild and Woolly Knitted Animals'. For our 'Makers' segment we travel down to Munich to visit Clara Chrocziel, the founder of Clara-Dorothea. Her label uses high craftsmanship to handmake beautiful, timelessly elegant dirndls. And in Bring & Brag both of us show off our finished projects.
James Laxton – Laxtons Woolen Mill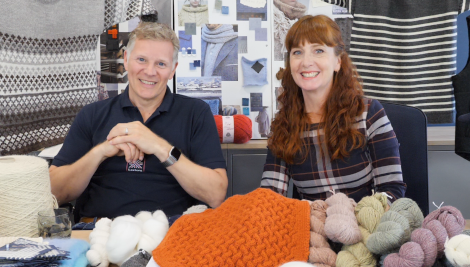 During last year's trip to the U.K. we had the pleasure of interviewing James Laxton, the fourth generation owner of Laxtons woolen mill. Laxtons was founded in 1907 by James's great grandfather George Laxton. The mill is best known for its worsted spun and fancy yarns.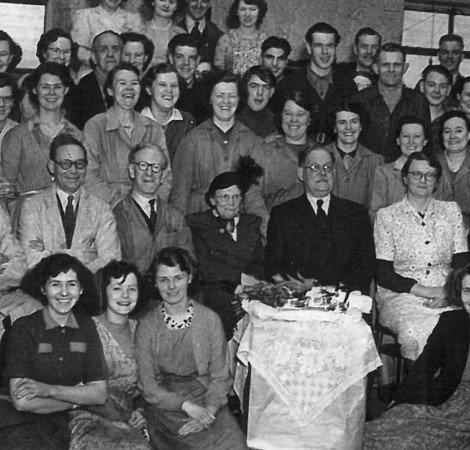 James joined his family business at the young age of 21 around 1992. At that time the U.K. textile industry was on a steep decline with manufacturing being outsourced to cheaper countries. Laxtons went through tough times, with their employee count dropping from 600 to just 3 at one point.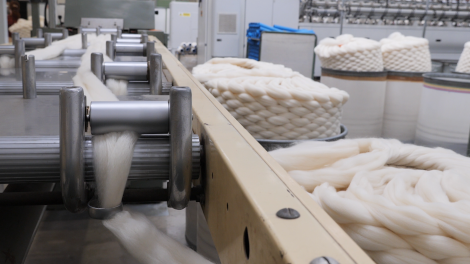 But then in the early 2000s, James turned things around by bringing 100% of Laxton's manufacturing back to the UK. This was an encouraging boost to the British wool industry.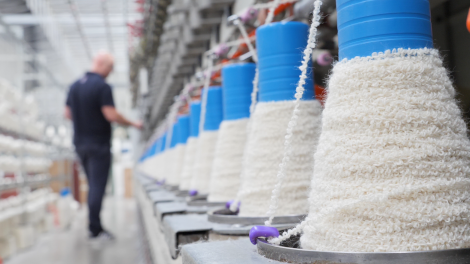 James is highly knowledgeable about yarn. He's involved in some very innovative projects, like creating high-quality yarns from recycled fibers and thread waste. He's also working on producing wool ropes to replace polypropylene ropes used in the fishing industry. Plus, he's a partner with Woolkeepers, an organisation that gives sheep farmers a fair price for their wool.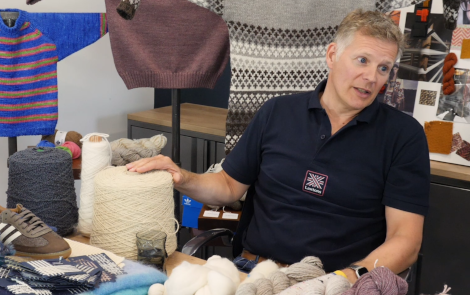 Laxtons have recently launched a new yarn range in connection with the Woolkeepers initiative called Wooltrace. Woolkeepers works together with sheep farmers and manufacturers in the UK to create a fully traceable supply chain within the wool industry. Wooltrace is a fully traceable yarn, and each skein will have a QR code on the band which the customer can scan. The customer can then read about the sheep farm where the wool in the skein comes from.
Laxtons is also the manufacturer behind Rowan's beautiful Pebble Island yarn range. The fleece is sourced from a single family farm on Pebble Island in the Falkland Islands. It's shipped to Bradford and fully processed within 5 miles of the Laxtons woollen mill. Madeleine used this yarn to knit two Lake Reed Hats by the designer Asita Krebs back in Episode 125.
Finding Laxtons
Patron Discount – Laxtons
Laxtons is offering Fruity Knitting Patrons a 15% discount off everything in their online shop. That includes the two yarn ranges, Sheepsoft and Wooltrace. Sheepsoft is a 100% British wool yarn made from Bluefaced Leicester and Masham with a low carbon footprint. It's less than 50 miles from the fleece to the finished yarn. Sheepsoft comes in a 4 ply, DK and Aran weight and in 16 heathered shades.
The new Wooltrace yarn also comes in 16 beautiful colours and is available as a DK weight yarn. Thank you very much to Laxtons for this wonderful discount! Fruity Knitting patrons can find all details here.
Knitters of The World – Rabbit Hole Knits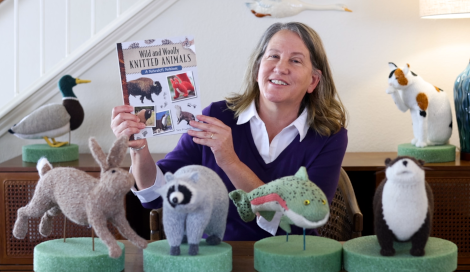 Sara Elizabeth Kellner, the designer behind Rabbit Hole Knits, recently published her book Wild and Woolly Knitted Animals, which has 25 patterns. It's not just a book of patterns; it's called a Naturalist's Notebook' and also includes beautiful drawings of the animals in their habitats and some scientific notes. We had a lot of fun browsing them and learning interesting tidbits about the different animals.
Sara loves to design realistic-looking animals but also toys that fit into classic children's literature. Her Good Knight Moon is a great example of this. Sara always tries to construct her patterns to be knitted in as few pieces as possible.
Finding Rabbit Hole Knits
Patron Discount – Rabbit Hole Knits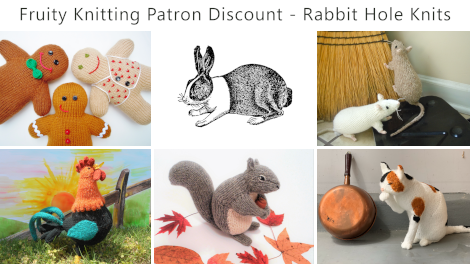 Sara is kindly offering Fruity Knitting Patrons a 50% discount off all her self-published patterns from her Ravelry store. She has 67 designs to choose from. My personal favourites are the scullery cat and the mice. They would look great sitting together in the corner of your kitchen. So have fun browsing through her store, and thank you to Sara for this very generous discount! Fruity Knitting patrons can find all details here.
Makers – Clara Dorothea – Dirndls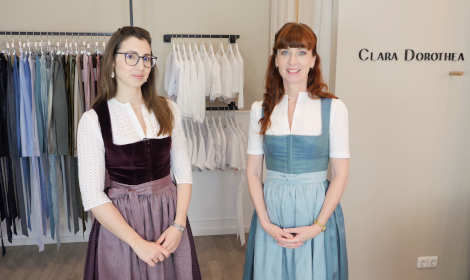 We recently drove down to Munich in Bavaria to meet Clara Chrocziel, the founder of the fashion label Clara Dorothea. Many people associate Munich with October Fest, where the men wear Lederhosen, the women dress up in Dirndeln, and everyone consumes large quantities of beer. The costumes worn during October Fest, also known as Tracht, are often very colourful with many embellishments. Sometimes they can look a little kitsch. But Clara's label offers a more subtle and chic handmade alternative.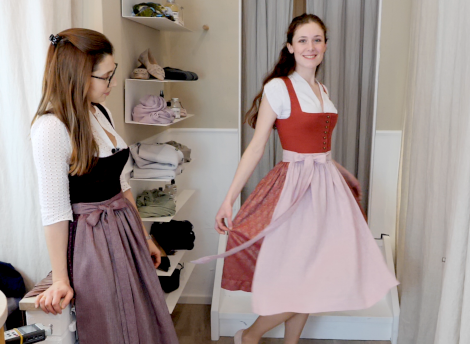 Lederhosen and Dirndl were inspired by what the farmers wore. When city folk holidayed in the country they copied their look and made a romanticized version out of it.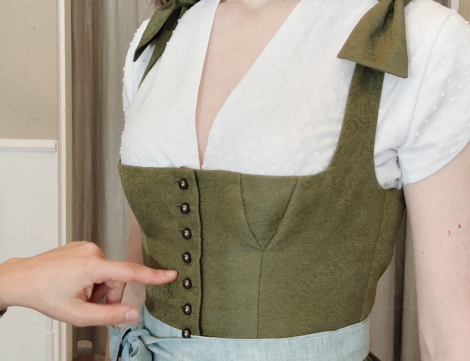 Clara Dorothea uses the highest quality fabrics from traditional weaving mills and family businesses in Europe. These particular brass buttons are made by a 150-year-old company in Austria.
The colours and patterns of the traditional Tracht and how the bow is tied show which region the person comes from, what social level they are, and what their marital status is. In Clara's opinion, a dirndl can never be worn without an apron. She also prefers the traditional crisp white blouse underneath the dirndl.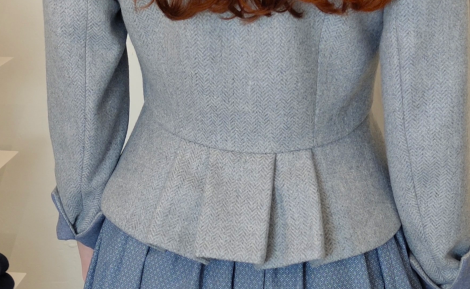 Clara Dorothea also makes tailored cardigans and jackets that accentuate the waist to not ruin the feminine shape created by the dirndl.
Finding Clara-Dorothea
Bring & Brag
Andrea's Joni by Moonstruck Knits
Andrea has finished her summer top 'Joni', a design by Natasja Hornby from Moonstruck Knits. She used a Danish yarn from CaMaRose made from 100% linen.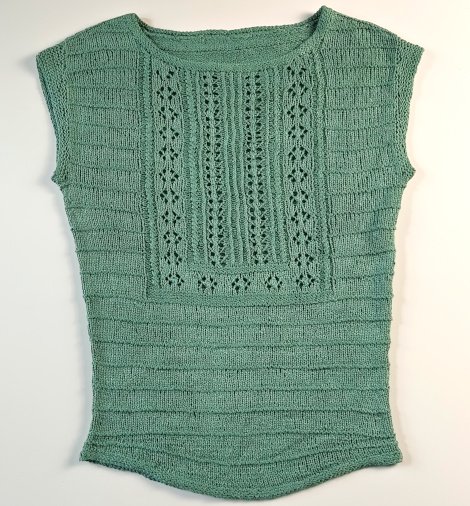 The design is worked seamlessly from the top down. Most of it is in stocking stitch with a fairly simple lace panel down the front. Natasja writes that it is a modern interpretation of the quintessential vintage lace blouse.
Andrea accidentally made her garment tighter, with about 5cm of negative ease. This is because she knitted her swatch flat, while the top itself is knitted in the round making her gauge tighter than the swatch. Despite that, she's pleased with how it turned out, as the design looks just as great as a tight-fitting top.
The shoulders are shaped with short rows. The little capped sleeves are knitted in garter stitch. For a snug fit, Andrea added a few extra short rows to the capped sleeves and bound them off tightly to prevent them from sticking out.
Madeleine's Good Grandpa Cardigan by Caidree
Madeleine has finished her Good Grandpa Cardigan by Caidree. The yarn is Fleece & Harmony's Signature Aran in the colourway Autumn Birch. Even though this was a relatively quick and easy knit, she made a small mistake with her gauge. Luckily, the cardigan turned out well, and she's been wearing it non-stop.
The recommended gauge is 16st by 23 rows, but Madeleine's gauge is 16st by 25rows. So, she needed to add some rows to achieve the same length as the original. She lengthened the body but forgot to do the same with the armholes, so the armholes ended up a little tight.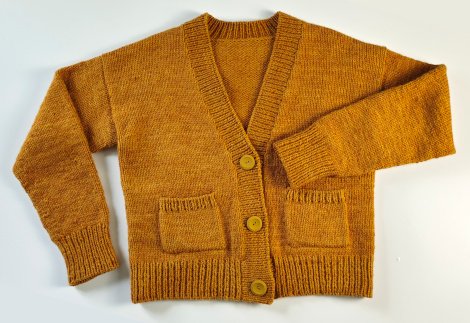 Madeleine compensated for this by intensively blocking (stretching) the garment between the shoulders and underarms. She also made the button band a few rows wider so the cardigan would hang further off her shoulders. This gives her more room under the arms because the armhole seam sits lower.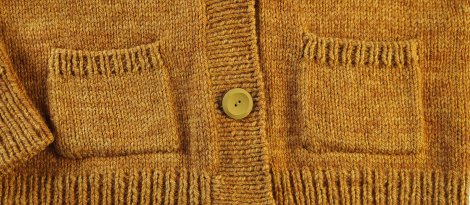 Support Fruity Knitting as a Patron
We are entirely dependent on the financial support of our Patrons to produce Fruity Knitting. We don't sell anything or receive money from advertising or sponsorship. Both of us, Andrea & Madeleine, work full-time to keep Fruity Knitting going. If you are watching the show, please support our work by becoming a Patron. It is easy and flexible, and you can pick your level of support by going to this link. Thank you very much to all our wonderful Patrons who are making this show possible!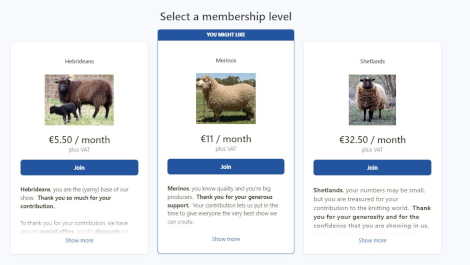 What we are wearing
Madeleine is wearing her Good Grandpa Cardigan by Caidree.
Music Credits