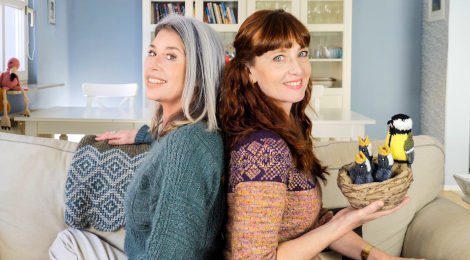 We have a very special guest joining us for Episode 127. Natasja Hornby, a knitwear designer and friend of mine has traveled down from Amsterdam and is staying with us for a few days. Earlier this year Madeleine and I drove to Amsterdam to interview Natasja before we crossed over on the ferry to the UK where we did our month of interviews. So that interview is included in this episode! Natasja also joins me on the couch to share some of her tips and tricks on how to photograph your knitwear. We both have finished projects to talk about in Bring and Brag and you'll meet the Canadian sisters Amy and Alyson who run the Legacy Lane Fiber Mill in New Brunswick, Canada.
Moonstruck Knits – Natasja Hornby
Natasja Hornby has been on Fruity Knitting twice before, once as a 'Knitter of the World' and once in 'New Releases'. Her designs are sophisticated, classy, and exciting.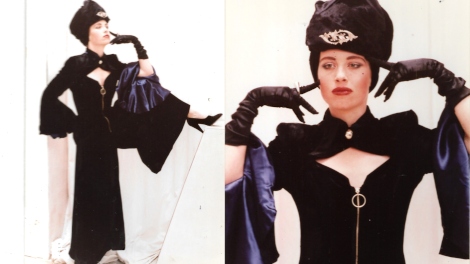 In her 20s, Natasja studied fashion and textiles. Because of her love for archetypes she based her graduation collection on fairytales, creating costumes for the evil stepmother, the princess and many more characters. She also created wild headdresses for costume parties!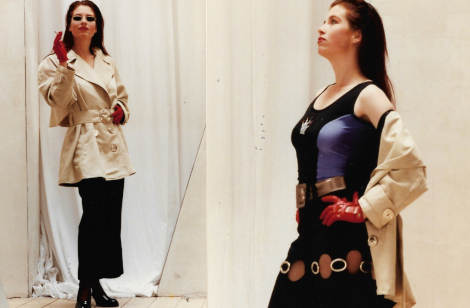 Later in life, Natasja spent several years working in forensic psychology. She finally returned to knitting when she discovered Ravelry with her mother (pictured below). Together they learnt to read knitting patterns, which led Natasja back into designing herself. Natasja's background studies in fashion and textiles have been very useful in her career as a knitwear designer, helping her solve design problems with handknitting.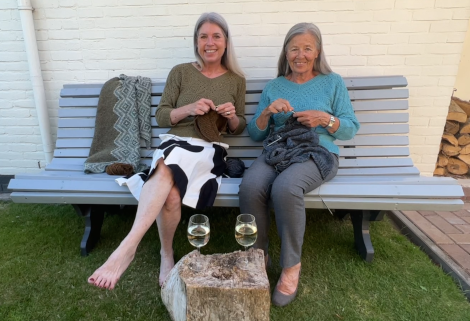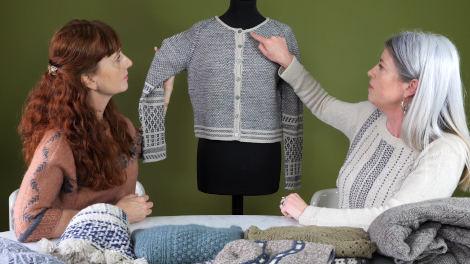 A good fit is very important to Natasja. She demonstrates this on the raglan shaping of her Kari cardigan. The standard raglan sleeve will increase every second row in both the sleeve and the body. However, this can lead to fit issues, especially in the larger sizes, because it would take too many rows to make all those increases. Natasja solved this problem by doing a compound raglan. Instead of increasing the same amount on both the body and the sleeve, she increased each piece at different rates. This mimics the line of a set-in sleeve.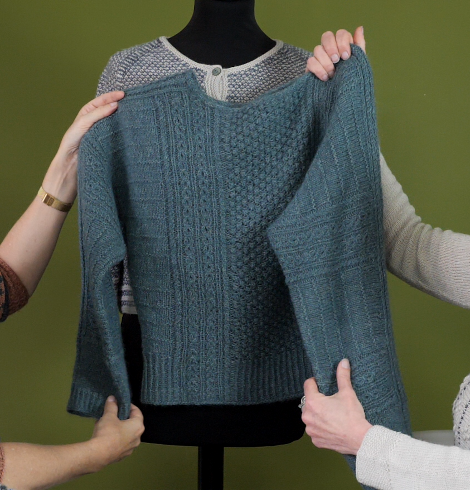 One of the reasons Natasja's designs are so distinctive, is her frequent use of modular knitting. She is constantly changing the direction of different elements within the design. Her Circe jumper is a good example of this. The cables on the body run the traditional vertical way, while they go horizontally on the sleeves. Similarly, the garter stitch on the body goes horizontally, while it appears vertical on the sleeves.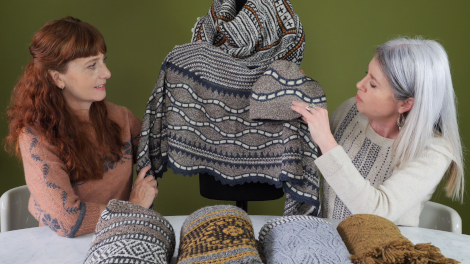 When she started designing Natasja focused mainly on sweaters. But over time she has learned to love shawls, especially because they allow her to try out more adventurous stitch patterns and colour combinations.
Finding Natasja Hornby
Patron Discount – Moonstruck Knits
Natasja is very kindly offering Fruity knitting Patrons a 25% discount off all her self-published designs from her Ravelry store, so have a wonderful time browsing through her portfolio. Our patrons can find the full details here.
Knitalong – Moonstruck Knits
I've already knitted one of Natasja's designs, the Corbis Sweater, and I love it! After watching her interview I'm sure many of you will be inspired to knit up her designs as well. So, we're starting another knitalong and we're calling it #moonstruckKAL. As always, it will be held in our Ravelry group and in the Patron Community Forum.
Legacy Lane Fiber Mill
During our recent trip to Canada, Madeleine and I drove down to Sussex in New Brunswick to visit the Legacy Lane Fibre Mill. The mill is run by two sisters, Amy and Alyson, who grew up in a fourth generation farming family.
We filmed this feature in their shop where they talked about how they advise their customers on how to process and blend their fleeces. They also showed us some of their yarns including their Pop Bottle Sock Yarn. It contains a percentage of recycled plastic bottles (pictured above) and is surprisingly soft.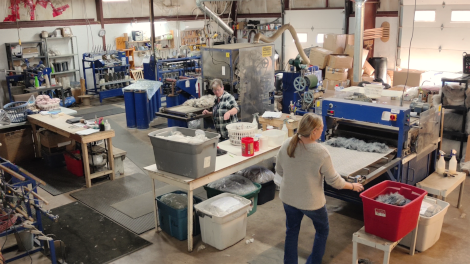 After that we visited their very impressive mill on the outskirts of Sussex.
Finding Legacy Lane Fiber Mill
Patron Discount – Legacy Lane Fiber Mill
Legacy Lane Fiber Mill is kindly offering Fruity Knitting Patrons a 15% discount off everything in their online store. Apart from their yarn which comes in many different weights, including aran, lopi, DK, Sport, Worsted and Fingering, they also have readymade knitwear and crafting tools and notions. Our Patrons can find the full details here.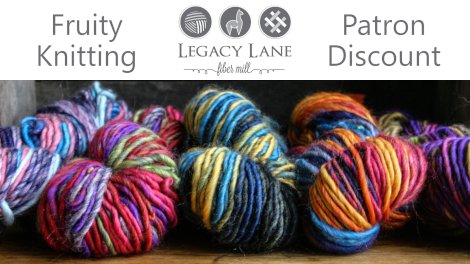 How to Photograph Your Knitting – Natasja Hornby
If you follow Natasja on Instagram, you'll know how stylish her account is. Her pictures really capture and show off the creative mood of her designs. Natasja also teaches workshops on how to photograph your knitting. And in this episode, she talks about some basic rules when it comes to lighting and composition. She also goes over some easy ways to edit images using only your smartphone.
Lighting can make or break your photo. Generally, you should avoid the harsh light of a sunny sky as you'll likely end up with very dark shadows and over-exposed patches. Instead, seek out the soft light of a slightly cloudy day. It creates gentler shadows and better shows off the colours.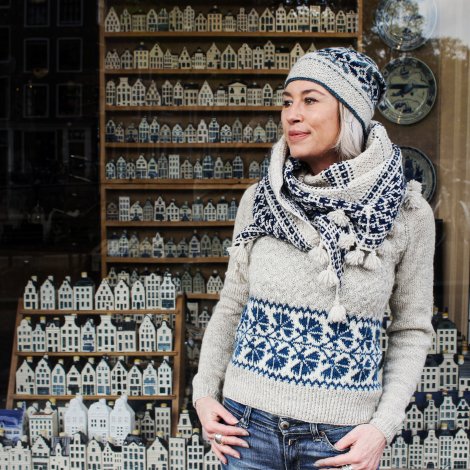 The above image is an excellent example of using soft light to emphasize subtle colour differences. Had the light been harsher, the slight variation in blues would not be as visible. Natasja also uses front lighting, which highlights her knitting, while the darker shopping window recedes into the background, creating depth of field. The downside is that front lighting flattens texture, making the cable pattern less visible.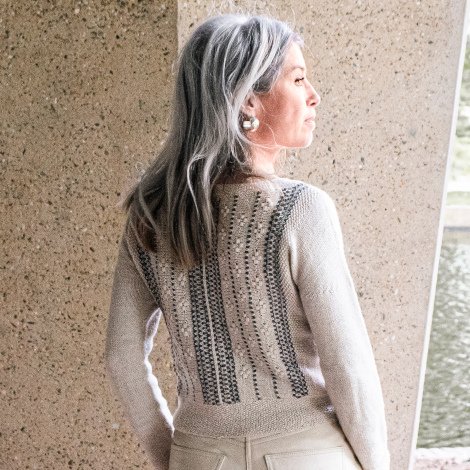 Side lighting, on the other hand, casts shadows. This emphasizes the texture of the knitwear, making it great for cables and bobbles! You can see this in the image above: Natasja is wearing her Maeron sweater. The side lighting accentuates the three-dimensionality of the intricate embroidery on this elegant design.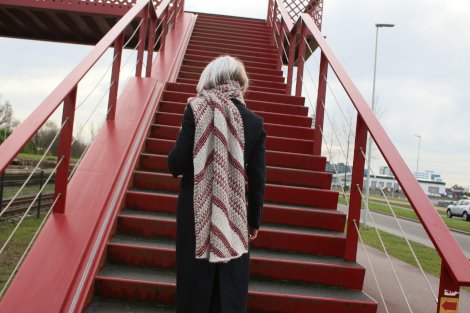 Lets talk about background and composition. A good composition grabs the viewers eye and leads the gaze to what you want to show. The red colour of the bridge in this image reflects the red zig zags on the Morgana shawl. Furthermore, there are several lines that run vertically and draw the viewer's gaze across the length of the shawl.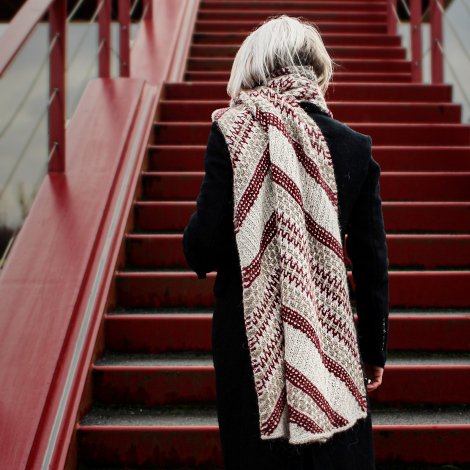 Natasja encourages us all to edit our images as some simple steps can drastically improve your images. Here Natasja cropped and rotated the image to make the stairs horizontal. Then she saturated it slightly to make the colours more vibrant. Finally, she added a little contrast for depth.
Bring and Brag
Nest of Birds by Alan Dart
Back in episode 118, we interviewed the UK's premier toy designer Alan Dart who has been designing toys for over 30 years. Since the interview was released, we started an Alan Dart KAL (knitalong) over in our Fruity Knitting Ravelry group and the Patron Community Forum. So I decided to knit his gorgeous "Nest of Birds"!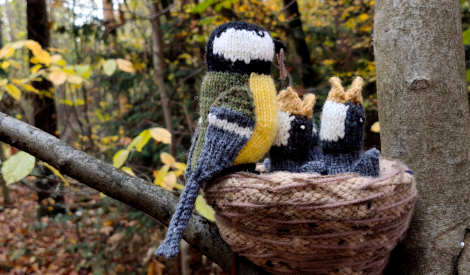 Alan puts a lot of detail and shaping into his toy designs, which I think makes them all the more appealing. You start with the nest, which is knitted out of a chunky tweed yarn. The inside is stocking stitch to make it smooth and the outside is reverse stocking stitch. For a final touch you embroider long, straight stitches to look like twigs.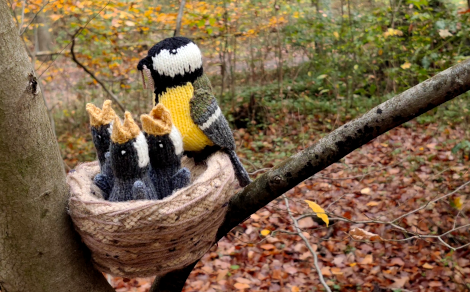 The mother bird is called a Great Tit and she has the most detail. I used some left-over heathered yarn for the wings as the flecks of different colours resemble the light reflecting on a real bird's feathers. The birds' eyes are embroidered instead of using glass eyes which I particularly like. Alan's patterns were a delight to follow as they're written very clearly. Even if you don't immediately understand the construction, don't worry. Simply start with the first step and follow along faithfully; it all becomes clearer as you go along.
Natasja's Yvonne MT Shawl
Natasja has finished a new shawl for her 'Grand Mosaic' collection which will be published this December. It is called "Yvonne MT" and is named after her mother, Yvonne, who took part in the designing process. You can choose to knit the shawl using either two or three colours.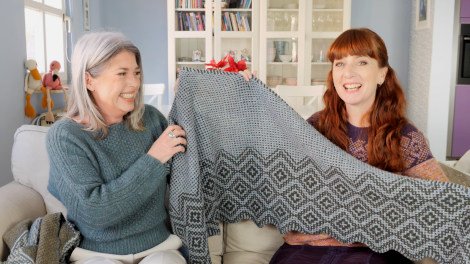 You start in the right corner and work your way in regular mosaic until you reach the inner body of the shawl (here in green). Up until now you only use two colours.

Once you reach the inner body you can add a third colour. To make this possible, Natasja devised a new technique she calls 'Intarsia Lite.' Intarsia because you change colours halfway on some rows. And lite because it is less challenging than normal intarsia. You alternate between knitting two rows with the third colour in intarsia and then two rows in a single colour. This makes it a lot easier than traditional intarsia.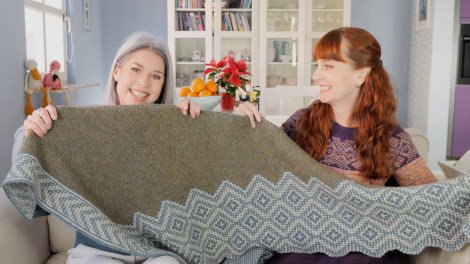 Natasja used high contrasting for the boarder mosaic to make it stand out. She wanted the inner body to have a tweedy look, so she picked the green for a low contrast.
What we are wearing
Andrea is wearing her Saint Lunaire Griquet by Jennifer Beale on the couch and in the interview she's wearing her L'Anse au Loup, also by Jennifer Beale.
Natasja is wearing her Circe sweater on the couch and her Maeron sweater during the interview.
During the 'Extreme Knitting' Madeleine is wearing her Bressay by Marie Wallin and Natasja is wearing her Benthe sweater.
Music Credits
J. S. Bach, The Well Tempered Klavier, Prelude No. 3 in C-sharp major, BWV 848, performed by Kimiko Ishizaka, Creative Commons Attribution 3.0
Philip Glass, Études No. 9, Piano works, ℗2017 Deutsche Grammophon GmbH, Berlin, performed by Víkingur Ólafsson, produced by Christopher Tarnow, provided to YouTube by Universal Music Group
Van Morrison, Moondance (2013 Remastered) from the album Moondance, ℗ 2013 Warner Records Inc., Auto-generated by YouTube