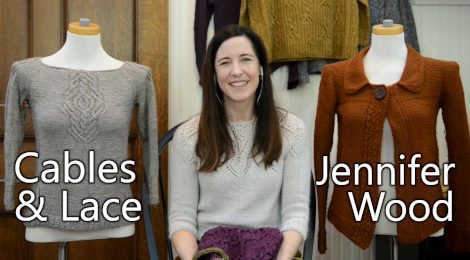 In Episode 83 our feature interview is with a designer who many of you will know but, in my opinion, should be even better known because her work is simply stunning. Jennifer Wood from Wood House Knits has a deep love of cables and lace and her designs are often intricate combinations of the two together. Jennifer's interview is in two parts. In part one she talks about how she invents and reinvents stitch patterns and the different ways of combining cable and lace stitch patterns. In part two, she talks about how to modify her patterns to suit a variety of body shapes. That is a subject I know many of you appreciate, so I think you will find the interview very valuable.
Crochet is knitting's sister, so it also makes an occasional appearance in our show. We feature an exceptional crochet designer in our popular Knitters of the World Segment (we are being a little loose with the title here). Whether or not you are a crocheter, you will definitely appreciate the skill and originality of our guest's work.
I've also done a short tutorial on an aspect of my latest finished garment, so there is lots of fun and informative content for you.
Jennifer Wood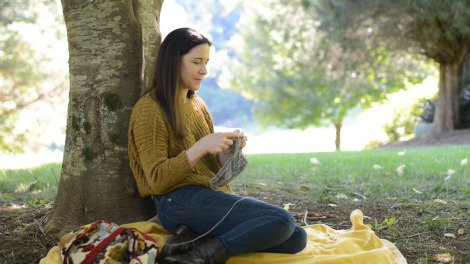 Wood House Knits is the home of Tennessee designer Jennifer Wood. Jennifer has been designing knitwear since around 2009. She mainly designs garments and she has a very distinctive style; typically using cables or lace or stunning combinations of the two together. In 2016 Interweave published a collection of Jennifer's beautiful and sophisticated designs in a book called Refined Knits.
This stunning sweater design (above) is called Winterberry It's one of the designs Jennifer uses in the interview to demonstrate how patterns can be modified to suit a range of body shapes and sizes. Jennifer also give us her tips for choosing yarns for cabled and lace projects and for reading lace and cable charts. It's a good idea to learn how to do this, especially if the design Murron below inspires you.
Jennifer's designs are very beautiful and Jennifer herself is very charming, so I'm sure will all enjoy getting to know her.
Patron Discount – Jennifer Wood
Fruity Knitting Patrons will receive a 25% discount on any of Jennifer's self-published patterns. She has around 50 self -published design, most of them beautiful and wearable cardigans and sweaters in all different yarn weights. If you like quick knits, Jennifer has a good selection of aran and worsted weight designs. Enjoy looking through her collection. Full details available here.
Finding Jennifer Wood and Wood House Knits
Crafty Intentions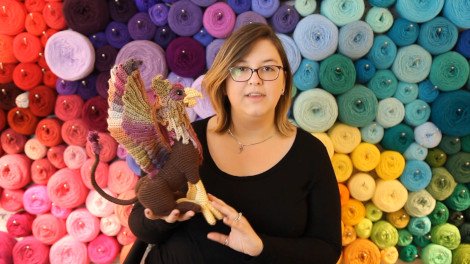 Megan Lapp tried many different fiber crafts but nothing held her interest as intensely as crochet. She has designed some pretty amazing, magical creatures and obviously puts in tremendous care and detail into her patterns.
Great care is taken with the internal wiring and construction of each body piece so each creature can stand up and be posed in different ways. The body shaping is fantastic, they look so authentic.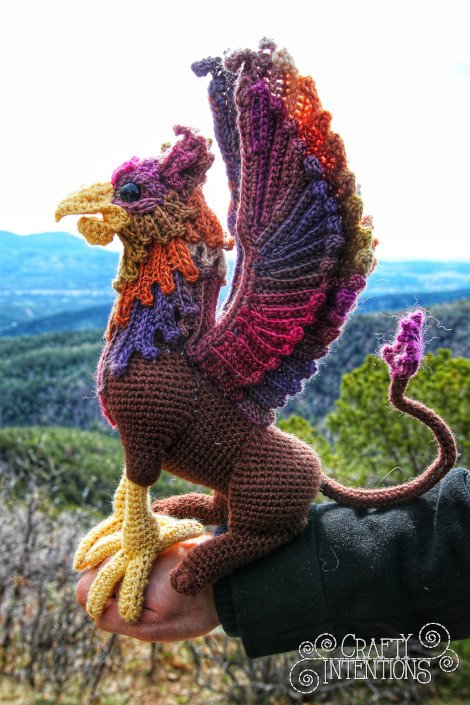 We have a yearlong crochet a long going for all of 2019. You can enter any crochet project you wish and as many times as you wish. If you yourself don't play with toys, I'm sure there is someone special in your life who would love one of Megan's magical creatures.
Finding Crafty Intentions
Saint Lunaire Griquet by Jennifer Beale
St. Lunaire Griquet is now finished and I'm thrilled with how it looks and fits. I've grown to love this design more and more as it has evolved but it hasn't been without it's challenges for me, mainly with my colour choices. It is extremely hard to pick colours that need to match well together from online photos and I think that was my problem. The final colour combination I chose works well, the body is Nature's Luxury On Stage – long meterage – Legends of the Fall. The dark purple yoke is John Arbon Devonia 4 ply – Nightshades. We featured Jennifer Beale in New Releases in Episode 62.
Closing Holes in the Underarms
Some of you might have difficulty avoiding little gaping holes at each end of your under arm seams when you are finishing yoke sweaters. I've made a short tutorial on one of the ways I get rid of these nasty little gaps. Hopefully you will find it useful.
Music Credits