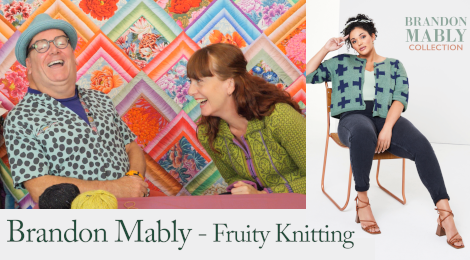 Episode 125 is slightly unusual. We typically broadcast from our studio in Offenbach, Germany, but this episode was filmed on Prince Edward Island. We came to PEI to attend and cover the PEI Fibre Festival. But sadly, the festival was canceled due to hurricane Fiona which slammed through the centre of PEI and was the most severe hurricane in recorded history within the area.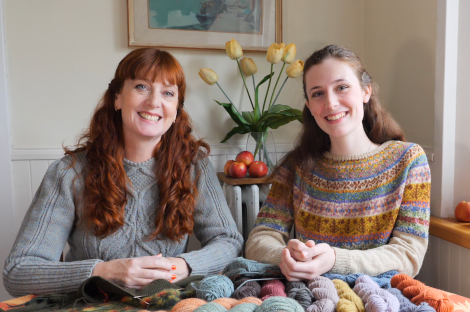 We are still on PEI and reorganizing our trip to make the best of these new circumstances.
When we travel to gather new content for the show, it is hard to find the time to produce our usual full episode. However, we've put together a slightly shorter episode, mainly consisting of a feature interview with Brandon Mably. Brandon is an artist and knitwear designer in his own right, and he's also part of the Kaffe Fassett collective of artists. This is an entertaining interview due to Brandon's witty and zany personality. With this one, you'll be able to sit back, get comfy, and enjoy a few laughs.
Brandon Mably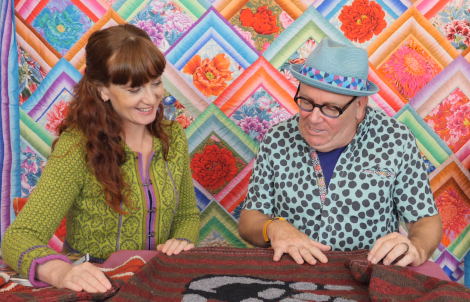 We cover many topics during our interview with Brandon Mably. Brandon shares personal stories like how he first met Kaffe at a London bus stop and the early days of working at Kaffe's London Studio. He also teaches us how to put colours and patterns together. And with a lot of humor, Brandon shows us the fine line between creating an exciting, vibrant craziness or an ugly eyesore… He is a great communicator and encourager, which really comes through in the interview.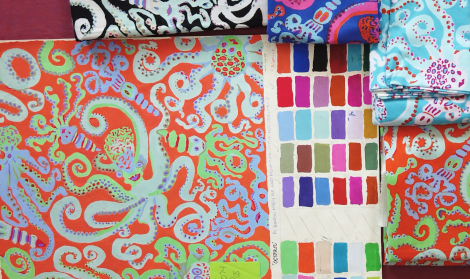 Since our interview with Brandon in September 2021, Rowan has come out with a collection of his designs called the Brandon Mably Collection. It is somewhat unusual because Brandon only gives you a choice between a jacket and a jumper. Both are drop-shouldered and cropped, with minimal shaping and flattering on different body types. The variety and fun comes in when you choose which of the eight bold and exciting patterns you use in your garment!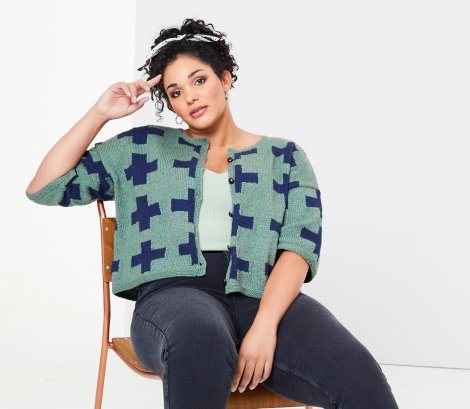 All charts use intarsia, and they're all designed to work equally well with either the jacket or the jumper. The idea is that the knitter can focus entirely on playing with colors and patterns on a simple canvas without worrying about fitting the patterns into complex garment shaping. Below are some of the possible designs you can choose from.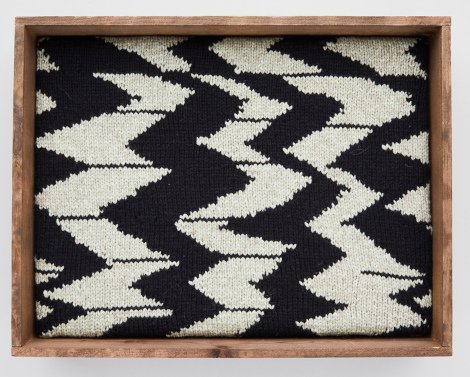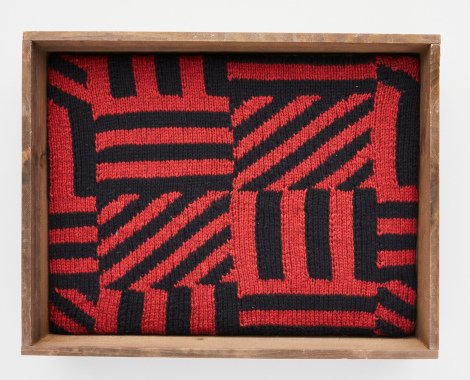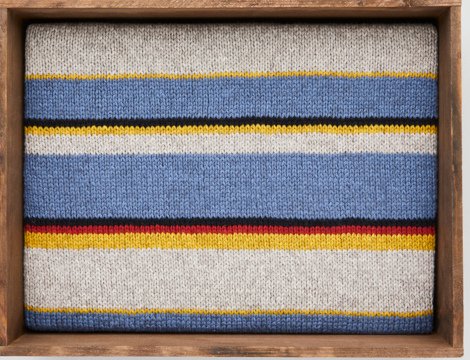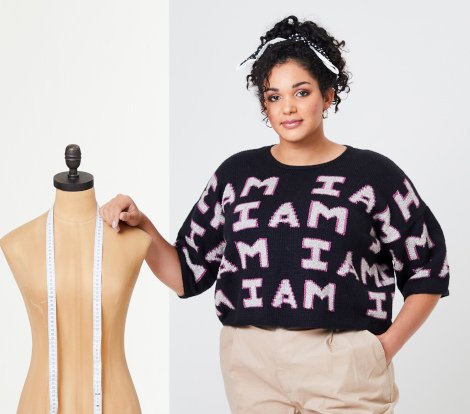 For extra flair, Brandon simply couldn't help but give his designs cheeky names like "Spotted you!", "Fenced In" or "Don't make me cross." The recommended yarn is the Rowan Softyak DK, a blend of cotton and yak. There are 23 colors to choose from, ranging from softer colors with a grey undertone to bolder colors like bright orange or red. So, you could create plenty of potential colour schemes with Brandon's collection, ranging from the bright and zany to the subtle and sophisticated.
Finding Brandon
Website: brandonmably.com
Instagram: brandonmably
Patron Discount – Rowan – Brandon Mably Collection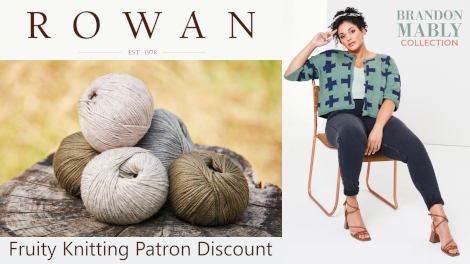 Rowan has kindly offered Fruity Knitting Patrons a 25% discount off both the yarn and the book for the Brandon Mably Collection, when purchased together from the Rowan online store. Our patrons can find all the details here.
Support Fruity Knitting by becoming a Patron
We are entirely dependent on the financial support of our Patrons to produce Fruity Knitting. We don't sell anything or receive money from advertising or sponsorship. Producing this show is my full-time work, and now Madeleine has joined Fruity Knitting to work full-time as well. We ask that if you are watching the show, please support our work by becoming a Patron. It is easy and flexible and you can pick your level of support by going to this link. Thank you very much to all our wonderful Patrons who are making this show possible.
Hurricane Fiona hits PEI (23-24 Sept)
Madeleine and I had never experienced a hurricane before, so we weren't too worried about it initially. We spent the day before the hurricane at Fleece and Harmony Woolen Mill along with some other outsiders who had remained on the island. Amongst these were Cabinboyknits, the Saltwater Mitten ladies, and some more knitters from all over Canada.
After stocking up on canned food and bottled water in the afternoon, we all met again in the evening for some knitting and a few stiff drinks. The Saltwater Mitten ladies indulged us in many wild stories about Newfoundland, promising Madeleine a husband within 5 minutes of moving there!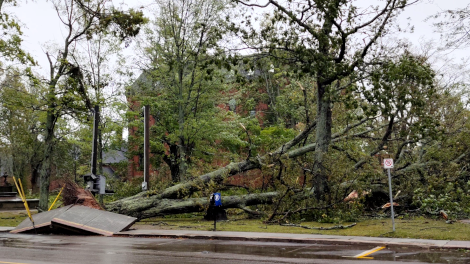 Madeleine dragged me home just before the winds started to get really heavy. The following day we woke up to find massive trees uprooted, blocking streets and crushing rooftops. Much of the electrical infrastructure was damaged, leaving most PEI without electricity. Five days later, we are still going to bed at 7.30pm as darkness sets in.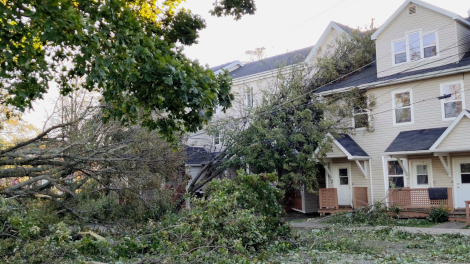 Being a cloud enthusiast, Madeleine couldn't help but research what makes hurricane Fiona so unusual. So, she explains how higher water temperatures, an upper-level trough, and a left-hook led to this full-on event.
Bring and Brag – Lake Reed Hat
Madeleine has enjoyed knitting small projects because finishing them quickly is so satisfying. The pattern is called Lake Reed and it's a free pattern by Asita Krebs on Ravelry. It's an extremely popular pattern with over 2000 projects on Ravelry. That alone recommends the design, and Madeleine found it to be clear and easy to follow. We interviewed Asita Krebs back in Episode 96. Asita is one of the organisers of the Swiss Yarn festival, and she's also a great spinner.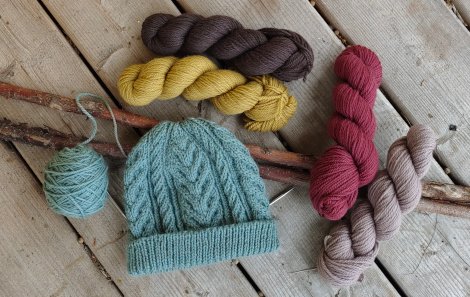 Madeleine used the Pebble Island yarn by Rowan in a beautiful blue called Stanley. The ten colours in the Pebble Island collection are inspired by the indigenous flora and fauna on the small island. They're designed to go very well together for colourwork. I love this hat so much that Madeleine is making me one in the colour Tussac. She has nearly finished it!
What we are wearing
In the interview with Brandon Mably, Andrea is wearing the Paisley Kofte by Sidsel J. Høivik. During the Episode Andrea is wearing Nightingale by Norah Gaughan and Madeleine is wearing Lovage by Marie Wallin
Music Credits
J. S. Bach, The Well Tempered Klavier, Prelude No. 3 in C-sharp major, BWV 848, performed by Kimiko Ishizaka, Creative Commons Attribution 3.0
My Way – Claude Francois, Album Nothing But The Best – Frank Sinatra, Licensed to YouTube by Universal Music Group
Ain't We Got Fun – Peggy Lee, Licensed to YouTube by LatinAutor, UMG, Warner Chappell